Ex-Steelers (from left to right) Brian St. Pierre, Clark Haggans and Jerame Tuman hope to continue their winning ways in Arizona.
"Steelers" is on the resume, and it's naïve to think it didn't factor in to their migration to Arizona.
Cardinals coach Ken Whisenhunt won a Super Bowl in Pittsburgh with guys like Clark Haggans, Jerame Tuman and Sean Morey. Brian St. Pierre understands the winning culture developed around the Steelers.
Those players are Cardinals now. Their experiences can help – but they have no desire to flash black-and-gold history to make the point.
"No one is looking at the past," said Haggans, the linebacker who spent eight seasons with the Steelers. "You do that when you are old and you are hanging out drinking tea on the porch with your buddies."
Whisenhunt isn't the first coach to collect players with whom he is familiar for his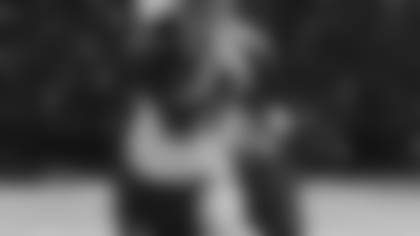 new team. The Cardinals went through a similar infusion when Dennis Green was head coach and the team signed ex-Vikings players like Robert Griffith, Robert Tate, Troy Walters and Obafemi Ayanbadejo.
But Green's Vikings never won a Super Bowl as the Steelers did in 2005, a detail that brings emphasis to any intangibles the ex-Steelers might have.
"The thing you bring from a program that has been successful is a lot of the little things," said Tuman, a tight end in his 10th season. "The biggest thing I took away from Pittsburgh was the group of guys we had and the way we got along. When you have a group of guys who want to be here and want to work, you can get a lot of things accomplished. All the years we were good, that's what we had."
Morey, a special teams standout, signed as a free agent last year when Whisenhunt arrived on the job. During the season, the Cards signed a pair of ex-Steeler offensive linemen – Chukki Okobi, who didn't work out, and Keydrick Vincent, who did.
Vincent, whom the Cards wanted to re-sign, left as a free agent. But Tuman, quarterback St. Pierre and Haggans arrived.
Arizona was a natural landing spot for all three, because Whisenhunt is familiar with their talents and because the players are familiar with the schedule and terminology because it mirrors -- at least in part -- what they had in Pittsburgh.
But Whisenhunt makes it clear, "We are not trying to make it Pittsburgh here all over again."
"There are things we do differently," Whisenhunt added. "We are trying to do what is the best thing for our football team, on the field, in the weight room, in the classroom."
Instead of ex-Steelers, Whisenhunt prefers to refer to the veterans as "pros," guys who know how to prepare. He lumps free-agent defensive lineman Bryan Robinson – who has spent his 10 years in the NFL with Chicago, Miami, St. Louis and Cincinnati – in the same group.
None are stars. The concept is rounding out the roster with players you trust already know the message. As St. Pierre pointed out, "it's one of those things, you lead by example, not by what you say."
Said Haggans, "You try to magnify and spread the expectations and the mindset and the standards."
It didn't hurt that the Cards needed more depth at linebacker when Haggans was available, or needed a blocking tight end like Tuman, or a third quarterback like St. Pierre.
Whisenhunt said the roster has already progressed significantly since he took over, with the players understanding how the coaching staff operates and expects the players to respond. And that doesn't include the guys who make up the Steelers connection.
But, Whisenhunt added, their presence still can have an impact.
"I have been fortunate to be in the playoffs a lot and I know that's what Whiz wants here," Haggans said. "I know everyone wants that here. Mr. Bidwill wants that. The state of Arizona wants that. We're just trying to plug in."
This article has been reproduced in a new format and may be missing content or contain faulty links. Please use the Contact Us link in our site footer to report an issue.