Cardinals owner Michael Bidwill took the stage Monday at the Super Bowl Handoff Press Conference, dressed in black. Next to him stood Future Hall of Fame receiver Larry Fitzgerald, sporting a blue suit.
The day after the Los Angeles Rams defeated the Cincinnati Bengals, 23-20, at SoFi Stadium to capture the Super Bowl title, the members of the Los Angeles Super Bowl Committee -- along with NFL commissioner Roger Goodell -- made the official "hand off" to Bidwill, Fitzgerald and the Arizona Host Committee with the next Super Bowl coming to Arizona.
Super Bowl LVII (57) will be at State Farm Stadium on Feb. 12, 2023.
Fitzgerald, now the executive chair of the Arizona committee, was also joined by Host Committee CEO Jay Parry and Arizona Governor Doug Ducey.
"Arizona is an unmatched destination, from the top of Camelback Mountain to the glory of the Grand Canyon, from the beauty of the desert to the pristine rivers that run through the state – the ecological richness and diversity in Arizona is unrivaled," Fitzgerald said. "I can't wait for everyone to experience what we have to offer."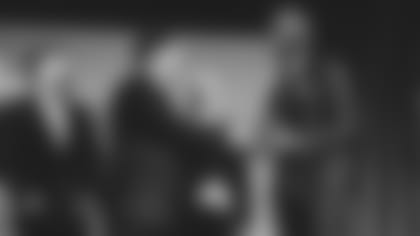 Since Arizona last hosted the Super Bowl in 2015, Ducey said Arizona has only grown. More than 500,000 residents have been added, and there are now a record-number of people living in Arizona. Four hundred thousand jobs have been added, and the state's unemployment rate is the lowest since Super Bowl 42 when the New York Giants defeated New England, Ducey added.
Bidwill said he hopes the Cardinals can continue the two-year Super Bowl streak of the stadium's home team playing in and winning the game after the Tampa Bay Buccaneers and Rams pulled off the feat.
Bidwill also echoed Fitzgerald in excitement about the opportunity, adding that the Cardinals have spent over $150 million in renovation upgrades at the stadium to prepare for the marquee game.
"The bar has been set high and we look forward to meeting that challenge," Bidwill said. "The last time (we hosted the Super Bowl), there was a $720 million economic impact in the state of Arizona, and we look forward to having an equally large economic impact this time around."