Punter Dirk Johnson holds for kicker Neil Rackers during practice Tuesday.
FLAGSTAFF – This time, holding in a game is a good thing.
It's the holding punter Dirk Johnson will do for kicker Neil Rackers on field goals and extra points. It's a job often ignored but – as the Cardinals and Rackers showed last season – shouldn't be.
Coach Ken Whisenhunt cut veteran punter Scott Player at the end of the preseason last year. The unintended side effect was hurting Rackers, who never warmed to rookie punter Mike Barr's holding.
"You have to develop a relationship (with the holder)," Rackers said. "Mike Barr worked very hard at it. I didn't handle the situation going into the season all that well. It is nice to have it ironed out."
Whisenhunt understands he might have made a mistake, noting Tuesday "maybe I misjudged the effect a young rookie punter/holder would have from that standpoint."
"There is a value placed on that (holder)," Whisenhunt added. "I know having Dirk
[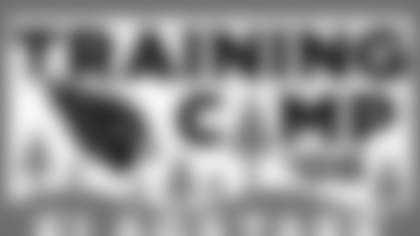 ](http://www.azcardinals.com/news/training_camp.php)
hold, (Rackers) is comfortable with that and it seems as far as his confidence goes to have made a difference."
Rackers missed a key extra point in Washington when Barr dropped a snap, and Rackers also missed nine of 30 field goal attempts.
The holds were not the only problem for Rackers. He suffered a sports hernia a couple of weeks into the season and tried to play through it. Instead of needing five or six kicks to warm up, Rackers needed a half-hour – and he said he was ready to cry because of the pain after just a few of the warm-up tries.
"I was stubborn thinking I could get it done," Rackers said. "I realize that was a factor too, because I couldn't get through the ball like I wanted to."
Johnson is just happy to be holding more naturally than when he played in Philadelphia. As an Eagle, Johnson, who is right-handed, had to use his left hand because kicker David Akers was left-footed.
"(Holding) is one of those things taken for granted," Johnson said. "You expect it to get done, but it is an art you have to master."
Rackers, Johnson and veteran long snapper Nathan Hodel have worked all summer on the relationship Rackers said is necessary.
"The great thing for me is when Dirk got here, he told me, 'Holding is just important as punting,' " Rackers said. "So it really worked out."
MEDDER OUT AT LEAST A MONTH
Undrafted rookie guard Carlton Medder, who was hurt Monday during a one-on-one drill with fellow rookie defensive lineman Kenny Iwebema, fractured his left elbow on the play. Whisenhunt said Tuesday Medder could not have contact for four weeks, meaning he'll be out at least that long.
Because of Medder's injury, Whisenhunt said rookie tackle Brandon Keith will be used at right guard in the preseason opener.
"It will be a tough adjustment for him but we did see some encouraging signs at practice," Whisenhunt said.
Cornerback Rod Hood (foot) missed a second straight practice Tuesday and his status for Thursday's game is in doubt.
Asked whether he would consider using safety Antrel Rolle for punt returns against the Saints, Whisenhunt answered with his own question.
"Let's see, he intercepted how many balls last year? Five? And returned how many for touchdowns? Four?" said Whisenhunt, including the one called back against Cincinnati. "So yes, he has shown he has the ability to run with the ball and I would like to look at him in that role returning punts."
Steve Breaston remains the top punt returner. But Whisenhunt said he would not hesitate to use Rolle as a punt returner full time even if Rolle starts at safety.
"As we learned last year with Steve against Pittsburgh, those are big time plays in games that can really change the outcome," Whisenhunt said of Breaston's TD punt return. "You put your best guys back there."
This article has been reproduced in a new format and may be missing content or contain faulty links. Please use the Contact Us link in our site footer to report an issue.