NFL scouts (including the Cardinals' Steve Keim, far right with red folder) time a 40-yard dash of an Arizona State University prospect during last week's pro day at ASU.
Josh Barrett backpedaled, spun and raced after the football lofted well down the field, finally making the catch.
The Arizona State University strong safety looked every bit the part during his school's pro day last week. A shade under 6-foot-2, 225 pounds and with the ability to run a 4.3 40 along with some soft hands, Barrett seems like a NFL player waiting to happen.
But as he looked on, Cardinals linebackers coach Bill Davis – who was the 49ers defensive coordinator before coming to Arizona -- added caution with his praise.
"I'd want to see him on tape," Davis said.
The month of March is littered with college pro days, a necessary appendage to the NFL scouting combine that take scouts and coaches across the country checking out potential draft picks. But like the combine, the pro day workouts should only be a small piece of what ultimately shouldn't be a complicated puzzle.
The potential pros have already played college football. The drills they take part in on a pro day are without pads, in a comfortable environment. In almost all cases, the players have specifically trained to do well in drills that may or may not translate into a game (an offensive lineman's 40-yard dash time?).
"You take it for what it's worth," said Cardinals director of college scouting Steve Keim.
Besides Keim and Davis, the Cardinals are represented at ASU by assistant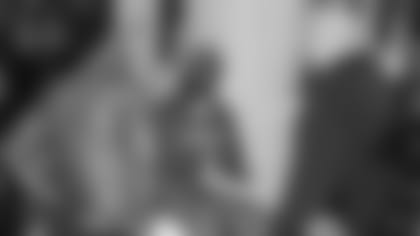 defensive backs coach Rick Courtright, running backs coach Maurice Carthon and pro scout Rashaan Curry.
On this day, scouts and/or coaches from somewhere between 20 and 25 NFL clubs are scrutinizing players not only from ASU but also a couple from Northern Arizona University and the University of Utah.
The group is not a deep one, nor star-studded. The mood is different than the year Terrell Suggs ran his 40 prior to being a top-10 pick or when quarterback Andrew Walter was coming out for the draft. The highest-rated prospect is center Mike Pollak, who did almost all of his drills at the Indianapolis combine and won't repeat them.
There are no head coaches in the scouting crowd, indicating the lack of high-end talent. Most of the players not only won't be drafted but will never be signed, and one NFL observer notes it will be this day those players long remember to friends and family, "the day they worked out for the NFL."
The Cardinals do not attend every pro day workout in the country; most teams do not. They will go to schools that feature talent not invited to the combine, as well as destinations that have players with which the Cards have "sincere interest," Keim said.
Keim himself goes to about 10 different pro days.
ASU's pro day is more loosely defined than others, with former Sun Devils and family members milling about. At pro days at powerhouse schools in the South, for instance, security is set up, fans sit in stands, and the ability to get on the playing surface is strictly monitored.
But that doesn't mean benefits can't come out of a day like the one at ASU.
For instance, ASU running back Ryan Torain, coming off a foot injury, improved his 40 time on the pro day over the one he ran at Indianapolis.
"This gets your adrenaline running," Torain said. "Indy was a great learning experience. Out here, you don't have to do all the (mental and medical) tests and you're not tired from doing all those tests. You're kind of free."
Then there is the case of Barrett, who, based on his pro day look, could easily be a first-day pick. Instead, he is projected to go in the fourth round because of his performance while playing at ASU.
All the workouts turn the pre-draft offseason into a roller coaster. Teams must make sure the information doesn't lead to over-analysis.
"It can confuse you with what you saw in the fall (on the field)," Keim said. "You can start asking yourself, 'Did I really see what I saw on tape?' "
This article has been reproduced in a new format and may be missing content or contain faulty links. Please use the Contact Us link in our site footer to report an issue.