Iowa defensive end Kenny Iwebema (right) will be reunited with Cardinals defensive line coach Ron Aiken, who recruited Iwebema to the Hawkeyes.
The Cardinals finally got their running back.
Richmond's Tim Hightower was the pick in the fifth round Sunday, after the team went defense in the fourth round with Iowa defensive end Kenny Iwebema.
Hightower isn't the home-run threat the Cards talked about before the draft. His
profile is of a competitive, between-the-tackles runner who has grinded out the yards but is missing a speed burst.
"We wanted competition at the position and he has the potential carry-the-load guy for us in the future," offensive coordinator Todd Haley said. "I liken him a little bit to (Dallas') Marion Barber who had some of the same (speed) issues. The thing we like about Tim, he has a chip on his shoulder. Those are the guys we have success with."
"Plus," Haley said, referencing Hightower's recommendation by running backs coach Maurice Carthon, "Mo guaranteed our money back."
Haley said he wasn't worried about Hightower's 40 times, saying those can be "overrated, especially at that position."
Hightower, who ran for 1,829 yards and 20 touchdowns as a senior, not surprisingly agreed.
"I don't think in any way that 40 is a reflection of the type of back I am," Hightower said. "I am going to make plays, I am going to work hard, I am going to help my team win. I don't think it can be measured in numbers or combine stats or anything like that."
Hightower gives the Cardinals five competing tailbacks, along with starter Edgerrin James, Marcel Shipp, J.J. Arrington and Steve Baylark.
Hightower is likely more of a project, as will be Iwebema – the team's second drafted end, after it took Calais Campbell in the second round.
In both cases with the defensive ends, defensive line coach Ron Aiken's name was in the mix. After Campbell specifically talked about how good of a teacher Aiken was and how much he wanted to work with Aiken, the Cards took Iwebema – whom Aiken recruited and coached for Iowa prior to Aiken coming to work for the Cardinals.
"With Calais he gives us two good young defensive ends to back up Darnell (Dockett) and Antonio (Smith)," Aiken said.
Aiken downplayed his role in finding Iwebema.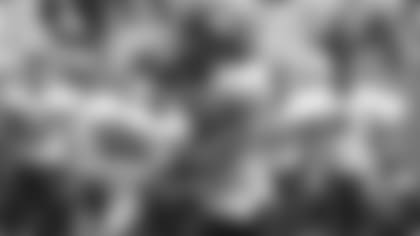 The coach also said a dropoff in sack totals over the years for Iwebema – who had 3½ this season and three in 2006 after posting seven in 2005 – and Campbell had to do with opposing blocking schemes being moved in their directions.
"When you have a big-sack year, protections changes a little bit," Aiken said.
Iwebema said he missed Aiken "a lot" once Aiken left for the NFL.
"He was the closest thing I had to a father-figure at Iowa," Iwebema said.
With Aiken in Arizona, the transition will be easier, Iwebema said, because "I know exactly what I am getting in coach Aiken and he knows what he is getting with me."
This article has been reproduced in a new format and may be missing content or contain faulty links. Please use the Contact Us link in our site footer to report an issue.