Big Red dances with some fans waiting in line for Monday night's Alltel Wireless ticket giveaway at Tempe Marketplace. 
They watched their Cardinals beat the Seahawks Sunday and then never went home.
Josiah Lee, Ronnie Lanier, Jason Clem and Killian Moss arrived outside the Alltel Wireless store at Tempe Marketplace about 7 p.m. Sunday night. Twenty-three hours later, they had their free tickets for the Cards' Saturday playoff game against the Falcons.
Lee, a Gilbert resident, doesn't have season tickets but he finds a way to attend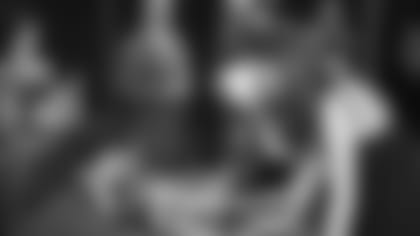 every game. Monday night's giveaway – paired with an autograph signing session in the Alltel store with wide receiver Larry Fitzgerald -- was his path to the postseason.
"This is a big deal," Lee said. "It's our first home playoff game since 1947, something this town doesn't get to experience often. We'll be there screaming our lungs out. I expect an energized atmosphere, more than any other game I have been at."
The tickets were the most important thing, but, Lee added, "Fitz is a bonus. He just had that monster game."
The first 50 people in line received tickets to the game, although the other fans that showed – the line extended well past 50 – took part in a raffle for more tickets and Cardinals gear.
"I have heard some stories (that) some of these people were here overnight," Fitzgerald said. "It is truly an honor to have fans out here dedicated to see this team play in a playoff game. We are all excited."
Willie Barnes had a simple reason he was first in line for the tickets: "Desperation."
"I wanted to see my team play," said the Phoenix resident, which is why he showed up at 2 p.m. Sunday, even before the Cardinals kicked off their regular-season finale against the Seahawks.
"It was well worth the wait," Barnes said.
For those looking for playoff tickets, seats remain available. Fans can contact Ticketmaster on the Internet at ticketmaster.com or by phone at 1-800-745-3000. Tickets can also be purchased at the team's Tempe facility or the University of Phoenix Stadium box office.
This article has been reproduced in a new format and may be missing content or contain faulty links. Please use the Contact Us link in our site footer to report an issue.