Kurt Warner threw three interceptions in Philadelphia this season, but this time, Warner and the Cards are at home against the Eagles.
The Eagles' defense knows Kurt Warner. And Warner knows the Eagles' defense.
The Cardinals' quarterback has never particularly enjoyed a lot of success against the Eagles' defense either, although this track record comes with a caveat.
In six career games against Philadelphia, Warner's passing rating is a less-than-stellar 69.3. But five of those six games – the only five regular-season games –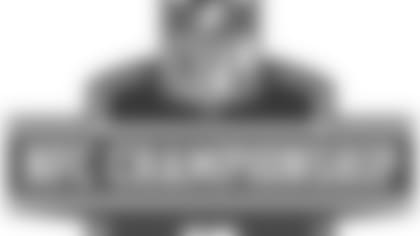 have all come in Philadelphia. The lone time Warner has faced the Eagles in the playoffs, it was a home game when he was with St. Louis, when he completed 22-of-33 passes for 212 yards, one touchdown and no interceptions.
Sunday, Warner will get a second attempt to face the Eagles and defensive coordinator Jim Johnson at home. It'll be in the playoffs again.
"The biggest key with a team like that is to recognize their defenses and to attack them," said Warner, who had three touchdown passes but three interceptions during the Cards' Thanksgiving loss in Philadelphia this season. "(Johnson) is going to bring pressure and he's going to bring it a lot of different ways from a lot of different angles from a lot of different people. As a team you have to be able to handle that.
"Sometimes you'd think it's not fully sound because they do that, but they do a tremendous job covering up the zone they are voiding."
In a national conference call Tuesday, former Giants defensive end turned Fox analyst Michael Strahan said against a Jim Johnson defense, the key to the Cardinals' success will be to "keep Kurt upright."
The Cards know the pressure won't stop until the game ends.
"Knowing Jim, he's not going to back down," said Cardinals cornerback Rod Hood, a former Eagle. "He's going to bring the house. But he's smart. He's going to take educated guesses. He knows tendencies. He knows the ebb and flow of the game."
Coach Ken Whisenhunt has been to this point in the playoffs a few times, including as an assistant in Pittsburgh during the Steelers' 2005 championship season. Prepping for a championship game isn't just about having crisp practices.
"You have to handle dealing with distractions," Whisenhunt said. "You also have to handle not getting too big for your britches. When the 32-team field is cut down to four teams and all that attention comes to you, a lot of times guys start thinking they're a little better than they are and maybe lose the work ethic that got them to that point."
Defensive end Bertrand Berry said the Cards can't afford to savor the moment because the team needs to maintain the same focus is has had.
"We still have to approach it as work," Berry said. "I see things being pretty much business as usual, except for a few more interviews now and then."
The Cardinals, as expected, brought back tight end Jerame Tuman Tuesday after placing tight end Stephen Spach on injured reserve. Spach tore right knee ligaments in the Cards' playoff win in Carolina.
Tuman was with the Cardinals until mid-December, when he was released to make room for linebacker Victor Hobson. He'll serve as a third tight end behind Leonard Pope and Ben Patrick.
Given the amount of tickets purchased on-line and over the phone for the NFC Championship, the Cardinals are encouraging fans to pick up their tickets before Sunday to avoid long lines at the will call window on Sunday.