Wide receiver Anquan Boldin (81) shares a laugh with Edgerrin James earlier in camp.
FLAGSTAFF – Still upset with his contract, Anquan Boldin reiterated his desire for a trade Monday and told the NFL Network he was no longer speaking with head coach Ken Whisenhunt.
Tuesday, Whisenhunt reacted to the situation with his star wide receiver, insisting that "nothing has really changed."
"You (media) have been at practice every day," Whisenhunt said. "We've been communicating. If communicating is talking, that's what we have been doing at practice. As we go forward, I don't know. I don't foresee anything changing. If it does, it's in his court.
"To me, it's not really an issue. Nothing has changed from a few weeks ago. I feel
[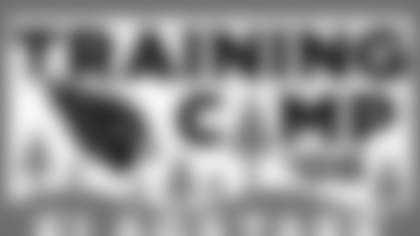 ](http://www.azcardinals.com/news/training_camp.php)
"There are probably two schools of thought with that," Whisenhunt said. "The first is maybe we won't name the starter, period. Maybe our first opponent, San Francisco, will have to prepare for two different quarterbacks. But we are going to have to prepare one of them as a starter – and you (media), with as many contacts as you have, it'd probably leak out.
"To me it's not an issue. I believe both Matt and Kurt would both be ready to play without a great number of snaps just because they are familiar with the offense. There are still two weeks of (preseason) left, two games that I think are important of seeing where we are. At the time when we feel it's right, we will decide."
Whisenhunt was smiling as he explained himself.
"(Third-stringer) Brian St. Pierre has played pretty well – maybe we'll throw him in the mix too," Whisenhunt quipped.
Linebackers Chike Okeafor (hip flexor) and Karlos Dansby (elbow) each sat out practice Tuesday, and offensive lineman Peter Clifford left the workout after hurting his left calf. The injuries to Okeafor and Dansby are not believed to be serious.
Tight end Ben Patrick (ankle), safety Antrel Rolle (ankle), offensive lineman Carlton Medder (elbow), fullback Dionte Johnson (ankle), defensive tackle Gabe Watson (PUP-knee) and center Al Johnson (knee) remained out.
Whisenhunt invited Suns coach Terry Porter to Flagstaff Tuesday to visit training camp. Porter ate lunch with Whisenhunt and attended practice in the afternoon. …
It's no surprise given when he has played in the preseason games, but rookie running back Tim Hightower is now officially listed as No. 2 on the depth chart behind Edgerrin James.
This article has been reproduced in a new format and may be missing content or contain faulty links. Please use the Contact Us link in our site footer to report an issue.