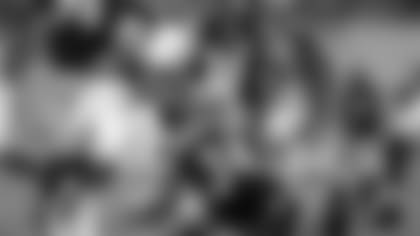 The Cardinals held the Steelers to less than three yards a carry rushing, one of the good things coach Ken Whisenhunt saw in the preseason opener.

At one point near the end of his press conference, coach Ken Whisenhunt searched to remember the day.
"What is today – Friday?" said Whisenhunt, bleary-eyed from a lack of sleep, the by-product of a night preseason opener in Pittsburgh Thursday that ended with a return to Arizona a little before 4 a.m.
Losing track of the days is easy at this point in training camp (the Cards go back to Flagstaff Sunday for one more week up north), but as Whisenhunt broke down the film once returning to Tempe, he saw a team that had a good showing against the Steelers, regardless of the 20-10 loss.
"Defensively, with our communication and operationally, I thought it was good for the first preseason game," Whisenhunt said. "Offensively, it was like that Saturday practice in Flagstaff, where we were flopping a bit early and then got hot. I think had our (first-team) offense stayed in the game and not come out, we would have been able to execute on some of those opportunities."
The first-team offense moved the ball even with the play-calling set on "vanilla." Whisenhunt was confident that the Kurt Warner-led group would have been 2008-effective had the full game plan been in, and even the coach noted how happy Warner seemed when he came out.
Whisenhunt even wrestled with putting Warner back in for a second series. He eventually pulled Warner halfway through the second drive.
"I actually told them on the headset, after Kurt got in there and made a couple of throws, I said, 'If there is a break, we are going to put Matt in,' " Whisenhunt said.
That break came when a possible fumble by running back Tim Hightower was reviewed. The Cards kept the ball, and Leinart kept the drive.
Judging backup quarterbacks Leinart and Brian St. Pierre – as well as the Cards' wealth of receivers and tight ends -- was also a big reason the Cards ended up throwing 49 passes and running the ball just 16 times.
"I wasn't concerned as much about how many times we ran the ball," Whisenhunt said. "We averaged over four yards a carry (4.4), which I think is significant, especially when you are running the ball against the Steelers. I felt like if we had wanted to run the ball more we could have, but there were a number of players and positions, especially in pass-game situations, we wanted to look at. That's what I was more interested in."
Whisenhunt did say starting running back Tim Hightower carried over his improvements from the practice field to the game. Hightower had 24 yards on six carries.
"It always feels a little different the first time out," Hightower said. "You can't really simulate it in practice full speed. But I felt pretty good. You want to be productive. You don't want to make any mistakes. Get in, get some good quality work in and do what you have to do."
Whisenhunt will soon get a little sleep, and there is some down time. The Cardinals don't practice again until late Sunday afternoon in Flagstaff.
Wide receiver Steve Breaston is undergoing a precautionary MRI after waking up with a stiff knee Friday.
"Hopefully it's nothing that will cause any (lost) time," Whisenhunt said. "It was sore and stiff. I think he fell on it at some point last night in the game."
Safety Dennis Keyes left the game with a right knee injury. Whisenhunt said Keyes should only miss one- or two weeks.
Whisenhunt said the goal is for running back Beanie Wells, who has missed all but one practice of training camp with an ankle sprain, to return next week and play against the Chargers. The Cards hope the same is true for wide receiver Early Doucet (shoulder injury).
Whisenhunt brought up again that the struggles of St. Pierre were not all his fault. He noted a dropped first-down pass by tight end Dominique Byrd that would have made a second-and-10 a second-and-1 play. He also said two of St. Pierre's three sacks came because of mental errors on the offensive line, in large part because left tackle Oliver Ross had been playing right tackle before Elliot Vallejo got hurt and he turned the wrong way on protection calls.
"You don't want to make a snap judgment (on St. Pierre)," Whisenhunt said.