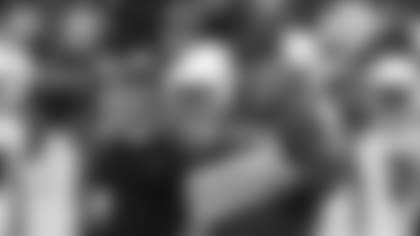 Cardinals coach Ken Whisenhunt (right, next to receivers coach John McNulty) has interviews with defensive coordinator candidates next week at the Senior Bowl.




Ken Whisenhunt hasn't forgotten about his vacant defensive coordinator position.

But in the process of hiring his third man for the spot since arriving as head coach in 2007, he wants to make sure he chooses wisely.

"I am trying to get the right fit for what we are trying to do," Whisenhunt said. "That's important.

"It's not so much about (taking) time as getting the right guy. It's got to be the right fit for schematically what we are trying to get done as well as a personality that will fit with our players."

Whisenhunt has submitted permission requests for "a couple of guys" and will interview them at next week's Senior Bowl in Mobile, Ala. He also acknowledged Thursday there remain current playoff teams -- only four are left, with the Steelers, Jets, Packers and Bears – that "have coaches that are interesting to me."

None of those coaches, obviously, are available until after their season is complete.

Whisenhunt has interviewed Greg Manusky, who later took the defensive coordinator job with San Diego. Whisenhunt also had multiple conversations with Jim Mora, Jr., although Mora told the Cardinals – as he also did with the Broncos and Eagles – he has decided not to coach in 2011.

Whisenhunt declined to name the candidates he will speak with in Mobile.

Whisenhunt said he has heard from fans and suggestions on who to hire. Grabbing just any "name" doesn't work, he said.

"You look at your team and their skill-set," Whisenhunt said. "You can't just say, 'OK, I'll bring in this guy' because his expertise might not fit your players.

"Obviously (defense) is an area we need to improve in. So that's why I am doing a lot of research, talking to a lot of people. I want to get the right fit."

Whisenhunt also addressed the possibility quarterbacks coach Chris Miller could leave. Miller is a finalist for the head coaching job at Southern Oregon University. That position isn't expected to be offered to anyone until early February.

"He's an energetic coach who has had a very good career as a player, good career as a high school coach and has done a good job with us coaching the quarterbacks," Whisenhunt said. "He has a unique perspective. I admire his desire to have something where he can have an impact on young man's lives. I don't want to lose him but I wish him success."