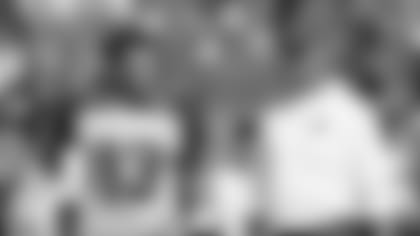 Coach Ken Whisenhunt (right) will go back to calling plays for quarterback Kurt Warner this season (AP photo).
FLAGSTAFF – Ken Whisenhunt smiled when asked about the impact on the Cardinals now that he was calling plays again, after offensive coordinator Todd Haley left to become head coach of the Kansas City Chiefs.
"I'll be a lot better than Todd," the Cardinals' head coach quipped.
"I don't know," Whisenhunt said, turning serious. "It remains to be seen. I am excited to get back to doing it. I felt it was one of the more enjoyable things to do in a game. It was not easy to step away from it but I thought it was the fair thing to do and Todd did a great job. Obviously I have big shoes to fill."
Haley, who took over playcalling duties fulltime last season, had taken over for Whisenhunt late in the 2007 season. Whisenhunt finally handed over the full responsibility going into what turned out to be the Cards' Super Bowl year.
Mike Miller is the passing game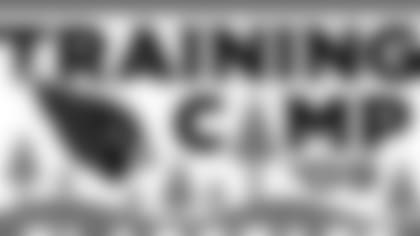 coordinator and Russ Grimm does the same for the running game, but it will be Whisenhunt making the calls on game day. Quarterback Kurt Warner doesn't seem concerned the Cards must endure a change, pointing out that Whisenhunt remained "heavily involved" in the offense and "influenced a lot of the plays called."
Warner also thought it was a good sign  when Whisenhunt, calling plays in 2007, allowed himself to get away from what Warner called the "Pittsburgh-esque mentality" of playcalling and eventually went with the Cards' strengths, which was Warner throwing the ball to Larry Fitzgerald and Anquan Boldin.
"As the year progressed and he got a feel for who we were as a football team, we became really what this offense is," Warner said. "A lot of that started with his playcalling. I don't expect it to be really a whole lot different. What I know about Coach, he likes to take chances, he has a great feel for what we do."
But, Warner quipped on his own, "hopefully Ken will throw the ball more."
Rookie running back Beanie Wells sprained his right ankle in his first NFL practice Saturday, but said Sunday he doesn't expect to be out too long.
"Whatever the coaches and trainers tell me," Wells said.
Whisenhunt said he didn't have a specific timeline for Wells' return, although he also downplayed Wells' absence, saying Wells will have plenty of time to prepare for the season whenever he returns.
"I don't anticipate it being what everybody is reacting to, that he's going to be out a month," Whisenhnt said. "We'll see how it goes."
Whisenhunt also shrugged off the way in which Wells was hurt, when he got tangled up with some linemen during a drill.
"When you have big guys falling on each other, bodies are going to fall around," Whisenhunt said. "We try to keep everybody up, but sometimes those things happen. That's the NFL."
Linebacker Chike Okeafor sat out with a stiff back, while fullback Dan Kreider remains out with a bad hamstring. Whisenhunt said fullback Justin Green was sent to the Valley for further tests on his bad knee; ligament damage is the fear. …
Whisenhunt joked the crowd remained "FAN-tastic." "When was the last time we had this kind of crowd on a Sunday?" he said.