Will Hernandez knew of Rolando Cantú before he ever came to the Cardinals.
He knew of the man who became – however briefly – the first Mexican-born non-kicker to play in the NFL when he had an appearance in the final game of the 2005 season, an offensive lineman like Hernandez.
"He (provided) huge pride for Mexican culture," Hernandez said.
When it comes to the Cardinals playing in Mexico, however, the two share another parallel both wish they didn't. Hernandez, who has family living in Mexico City, won't play in the game Monday night after hurting his pectoral muscle. Cantú didn't play in the game either, stuck on the practice squad in 2005 when the Cardinals had other pressing roster issues.
Cantú made sure to impact the trip where he could. And Hernandez plans the same.
"The way I'm able to accept it is that I know, in my head, I can't do anything about it," Hernandez said. "As much as I want to play, I can't. So what do you do from there? You can't control the situation, so all you can do is adjust. If I can't help my team by being on the field I can help them on the sideline, with having positive energy, by being hyped up for them, by talking to them and motivating them."
Hernandez isn't a Mexico native, but he spent draft week in the country in April as a Cardinals ambassador – and that was before the Mexico game was announced.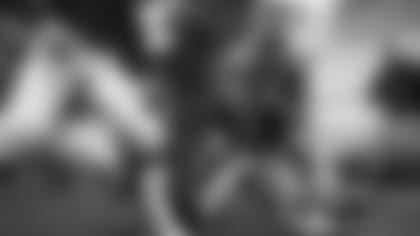 "For him I know it's going to be a bummer," Cantú said. "I've been there. Dennis Green did not activate me that week. I think at the end of the day it worked out. I was able to witness first-hand our victory against the 49ers and that is something I will always have."
Cantú may have only been on the practice squad but he was easily the most popular Cardinal on that trip – which included Kurt Warner, Larry Fitzgerald and Anquan Boldin. He parlayed that into roles with the Cardinals as their manager of international business ventures (focusing on Mexico) and for years, their color analyst on their Spanish radio broadcasts.
This season, Cantú has gone national, as the color analyst for Telemundo Deportes for "Sunday Night Football" and for Amazon Prime's Spanish feed for "Thursday Night Football."
"The appetite (in Mexico) for football is the biggest outside the U.S.," Cantú said. "The U.K. has gotten big games and the Munich game was big for the NFL. But when this game happens on Monday night, I'm sure NFL fans will win. It's something in the culture for so long, longer than any other international market. The buzz and the networks in Mexico all getting in, it's been something I have never been a part of."
Cantú said he's heard from dozens of people that the Cardinals-49ers game will launch their "season" of sports, with Mexico's first World Cup game – not football but fútbol – coming on Tuesday. That's only one of the reasons Estadio Azteca is expected to be alive for the NFL game, just like it had been in 2005
"The atmosphere is going to be special to all the players and more special to Will on this occasion," Cantú said. "Me too. This is part two for me. It's like, 'Really, I've lasted this long?' "
Hernandez was only 10 when the Cardinals played in Mexico the first time. He has never been to Estadio Azteca. It's his paternal side of the family that lives in the area, although this trip is about supporting his teammates, not necessarily a family visit.
The sport has grown in Mexico – "Makes me happy," he said – and Hernandez is convinced as time goes on there will be more Mexican-born players like Cantú in the NFL.
Having role models like Cantú and Hernandez helps.
"I know the stadium will be electric, and the fans with be hyped up, and the guys will be hyped up," Hernandez said. "I'll be right along with that, whether I am on the field or not."