The only other time Larry Fitzgerald wasn't around for the opening of Cardinals' training camp once the team drafted him was that first season – 2004 – when the negotiations of Fitzgerald's rookie contract pushed his arrival back a few days.
It's unlikely the wide receiver will be there Tuesday when the Cards open camp this year. The reason for it, however, remains vague.
Maybe the soon-to-be-38-year-old isn't planning on playing anymore. At this point, that feels like the most likely scenario, with Fitzgerald without a contract. Maybe he's biding his time for an announcement one way or another, to say he's actually going to play in 2021, or not.
It isn't as if Fitzgerald has disappeared this offseason. Owning a small piece of the NBA's Phoenix Suns has put him in the spotlight – albeit briefly – during games he attended in the playoffs. He's golfed a bunch, played in the American Century Championship as usual and taking part in some of the extra fun surrounding the Tom Brady/Phil Mickelson-Aaron Rodgers/Bryson DeChambeau made-for-TV match. He's done some TV interviews around golf, and he has still returned text messages. And at no point has he let anyone know his intentions.
Both GM Steve Keim and coach Kliff Kingsbury have been asked about it multiple times this offseason. They have said at various times Fitzgerald had not made a decision and that the organization would let him decide whether he was done or wanted to keep playing on his own timeline. Fitz's answer each time the subject has come up with a reporter has been the same.
I haven't made up my mind.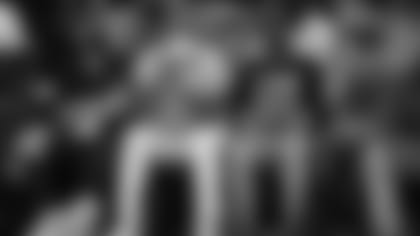 Of course, those sentiments all came with months, or weeks, before camp was to start. Now Cardinals Camp is here, and there is yet to be Fitzgerald closure.
The number of times Fitzgerald has made plain he would choose not to make a big deal of the end of his career is plentiful. That he could potentially slip away without official word was/is always possible. Perhaps he'll consider an in-season return, like Dwight Freeney did with the Cardinals in 2015.
No, it doesn't make much sense that Fitzgerald would be the tight end on a team that could use another. Fitz has always been a team guy but that big of a position change doesn't track. Beyond that, the Cardinals would have to find room in a receivers room with DeAndre Hopkins, A.J. Green, Christian Kirk and Rondale Moore among others. They would, of course, should Fitz return, however complicated it might be.
In the meantime, it's the same waiting game everyone has had since the season ended, since Fitzgerald's contract officially ran out in early March. Does Fitzgerald really want to play again? Or is he done after 17 seasons?
Officially it's an unknown – and the season is here.