WHEN her son Zaven was growing up, Haley Collins enrolled him into a couple of speech and public speaking courses. She thought it important Zaven have that background, no matter what happened to him in the future.
"I don't know why she did it, but she just wanted me to be successful," Zaven said. "If you can speak well and speak clearly and communicate with people you can go a long way in life."
Of course, communication did become vital for Haley Collins' son in his line of work. The green dot – the sticker on Collins' helmet signifying that he is the one getting the playcalls from defensive coordinator Vance Joseph and then has to give them out to the balance of the defense – is the symbol for communication in the NFL.
But the linebacker smiles and shakes his head when it's noted maybe those speech classes help him on the field.
"It definitely doesn't sound like how we're talking out there," Collins said. "You go 60 plays in, it's rough. You get out a breath quick, start yelling at people, sounding like an ogre out there. That's what they call me."
Collins can make a joke. He's in a better place seven games into his second season, playing every snap each game and showing more often why the Cardinals spent a first-round pick on him. He picked up his first two career sacks in Seattle recently, and more importantly, the concerns of whether Collins was finally ready to take over such a role have faded away.
The Cardinals play in Minnesota Sunday, where it just so happens that Jordan Hicks – the veteran linebacker whom Collins replaced, it could be suggested, multiple times before taking hold – now plays for the Vikings. Collins is far from a finished product. But he's headed that way, no matter how rough the journey was the past 16 months.
"I don't think it's been easy for him," Haley Collins said. "He is very good in hiding that, especially from his Momma, even as I poke him and poke him and poke him. But he's handled it with poise. When he's faced with adversity, he's been resilient. He's been like that since he was little."
Zaven Collins reminds himself often just to take a deep breath and clear his head. Everything, he will tell himself, is OK.
"There are going to be plenty of those times when I could've been discouraged," he said. "And I was at one point and time. My mental state was 'Gol-lee, what's going on?' But now I am chill. It's a lot easier."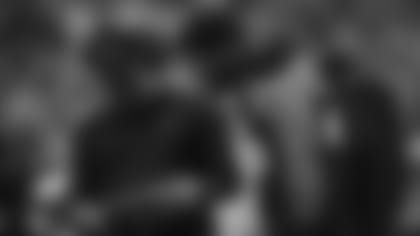 COLLINS was taken in the first round in the 2021 draft and the Cardinals immediately said he was going to start.
The issue? Hicks, who started in the same spot in 2020 and whose strength was being the quarterback of the defense with his intelligence and experience, was still around. Collins was going to have pressure on him anyway; having Hicks around just meant more. Hicks asked for a trade but nothing materialized, and the two went into training camp together and the spotlight on Collins.
"We started out with every intention of saying 'How far can Zaven take it?' " linebackers coach Bill Davis said. "And we pulled back and that's all that happened. Usually you start lesser and give him more. We started with more and took some away, and he's earned – earned – it back."
Collins did start seven games as a rookie, often alongside Hicks in specific packages. Hicks ended up the anchor again while Collins' playtime evaporated as the season went on.
Collins won't say if he would have preferred not to be given the starting job immediately but admitted it did change expectations.
"(DC) Vance (Joseph) still plays the guys he wants to play," Collins said. "I wouldn't be any different. Guys that deserve to play deserve to play. You learn quick. It was trial by fire. I was in that fire for a minute, but trial by fire."
Collins played 220 defensive snaps all of last regular season. This year, he is already at 431 and is second on the team in tackles.
"As coaches our job this week is to win the game," Davis said. "Put the guys in position who are available this week – draft status, money, all that is irrelevant to us – who are most prepared in the roles we are asking against the specific scheme we are facing, to win this game."
Collins said he still talks with Hicks, and said he was lucky to gain so much knowledge from his former teammate. Hicks made clear, even as he was saying he was upset with the whole scenario last year, he never had any issues with Collins.
It didn't make last season any easier.
"The pressure of a first-round pick is always there," Joseph said.
Hicks was released this offseason, eventually signing with the Vikings. It was going to be Collins' job.
Collins began meeting with defensive leaders like Budda Baker and Jalen Thompson early mornings in this year's training camp to tamp out any "gray areas" when it came to playcalls so that mistakes wouldn't be made in the heat of the moment.
Isaiah Simmons started with the green dot in games, but Collins -- who also worked with it in camp, as he had as a rookie -- took over part way through the Chiefs game and has done it since.
Davis and Collins sat down before the Chiefs game and compared Collins play in his preseason opener last year against those same Chiefs. The natural "fog" rookies play under, said Davis, had been lifted.
"The process is the process," Davis added. "You can't rush it."
HALEY Collins is on Twitter, and that hasn't always been a good thing for a mother who – despite Zaven's 6-foot-4, 260-pound frame – still hurts for her little boy, who was under heavy scrutiny from the time he was drafted.
"There were even some things in my inbox and tweeted at me that were just awful," Haley said. "I am not like him. He is so good about keeping his mind clear about any negative comments on any social media posts. With a lot of things like that all last year and even with the preseason this year, he's just kept that resilience. That's him."
Collins understands the landscape. He is just 23, but his maturity is evident. A high school mentor once told him of newspaper articles, 'Don't let the ink get in your eyes whether it's good or bad.' "
"I believe in that wholeheartedly," Collins said.
"I've learned that, especially coming in the league," he added. "You can be perfect and some guys will bash you. There are people out there saying Tom Brady sucks after winning all those Super Bowls, and it's like, why are we saying this?
"I'm calloused over. They don't mean it. Ninety percent of the people, they don't mean it. And I don't know them. So it's all right."
There were times last year, Davis said, when Collins' energy was low, and the coach knew Collins was in a rough patch. But mostly, Collins has worked through his problems with the right attitude.
When the Rams visited State Farm Stadium earlier this season, Collins had Rams quarterback Matthew Stafford in his sights for a sure sack – until Stafford was able to dip down and out of it, converting a key third down and costing the Cardinals at a key moment in the game.
"We talked about it, we know why he missed it," Davis said. "We as a team are counting on him to make the plays he's supposed to make. And that's where we are in right now."
Haley Collins has no doubts about her son blossoming. As a single mother, she didn't have money to save for college, so Zaven said he wanted to get a D-I college scholarship. He only got one offer, but Tulsa got their man. Zaven wanted to become a first-round NFL pick and his work paid there too.
Zaven Collins hasn't lost himself in the process either. He handles the grief delivered in the locker room for his choice of music – maybe country, maybe some classic rock that is rarely heard around NFL players – or when he rolls up to a game in the cowboy hat he bought in Nashville.
"I'm from where I'm from and I don't really care," he said with a smile.
There is a lot more for Collins to learn, Davis said. He has the brain, the football IQ, the memory to make it. He certainly has the physique and athleticism. Mom made sure he had the communication skills.
That's why it takes time a young player to develop, to no longer overthink. Collins always needed to flatten the learning curve.
"Sometimes," Davis said, "It's just, 'Hey, your job is to tackle the guy with a lot of violence."