Quarteback Matt Leinart works at practice under the watchful eye of coach Ken Whisenhunt.
FLAGSTAFF – Early last season, it was clear quarterback Matt Leinart wasn't as prepared as he needed to be.
Now, Leinart realizes just how far he had to come.
"At this point last year, I had no clue," Leinart said. "A little bit, but really I had no clue what was going on. This year, I have a command of the offense. I just have to keep studying and keep working."
Coach Ken Whisenhunt named Leinart his starting quarterback, but Kurt Warner ostensibly has a chance to take away the job. Nevertheless, Leinart – who has said many times the competition with Warner makes him play better – insisted he isn't looking over his shoulder.
"Last year, at some points when we were doing the rotation thing, it was just natural to look over and think, 'What's going on?' " Leinart said. "But this year I
[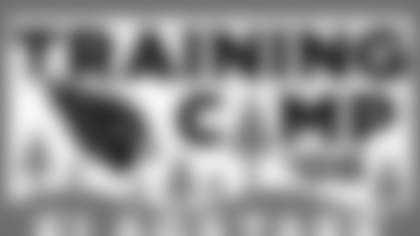 ](http://www.azcardinals.com/news/training_camp.php)
have full confidence in what I am doing which wasn't the case last year. This year I am just motivated to get the job done."
Leinart understands there are many who doubt him, and that there are many who he thinks have the wrong perception of him. Leinart insisted that does not bother him.
"You take the glory and you take the falls, but that's what I signed up for," Leinart said. "This is what I was born to do."
Earlier Thursday, Whisenhunt said starting center Al Johnson, whose left knee hurting, will either have to undergo rehab to fix it or have a surgical procedure again to clean it out. Either way, Johnson looks like he will miss extended training camp time.
Then the Cards got hit again during Thursday's lone practice when new second-string center Scott Peters ended up at the bottom of a pile during a drill. Peters hurt his left knee and had to be carted off the field.
Whisenhunt did not meet with the media in the afternoon, so any possible update will not come until Friday.
Lyle Sendlein, who already was replacing Johnson, was working with the second team as well immediately after Peters' injury. The only other center for the Cards is undrafted rookie Hercules Satele, who was a guard in college.
"Injuries are always an issue in this game," Whisenhunt said at lunchtime, prior to Peters' injury. "The biggest thing you have to worry about is if you lose a starter, (then) it comes down to the guys behind him. We are in a better position as a team overall. Lyle Sendlein, if you look at where he is now compared to where he was a year ago, I have no issues putting Lyle in."
Whisenhunt said the sore hamstring of Anquan Boldin is still nagging Boldin. As a result, Boldin will get an MRI, probably Friday morning, to see if there are bigger issues.
"Everything seems OK except when he really opens it up," Whisenhunt said. "I think it is closer and hopefully by this weekend it's something we can test it out. We're being a little conservative."
Not only did the Cardinals add a veteran offensive tackle Thursday when they signed Kelly Butler (cutting rookie Thaddeus Coleman in the process) but Whisenhunt also expressed some optimism about the future of seventh-round pick Brandon Keith.
Keith was too heavy when he arrived in Arizona, but he cut 25 pounds off his 6-foot-5 frame. Whisenhunt said coaches noticed Keith's good feet for a lineman.
"It'll be a test for him when he plays (in a) game, but I am pleased and the potential is there to have gotten a very good pick in the seventh round," Whisenhunt said.
Whisenhunt said while Keith is mostly playing right tackle, the team hopes to eventually work him on the left side too so Keith can be a swing man, and perhaps prepare Keith at guard as well.
Linebacker Clark Haggans sat out with an undisclosed injury, but he is expected to return Friday. Fullback Dionte Johnson sat out practice and had a walking boot on his left foot. …
Cornerback Eric Green missed practice, excused to tend to personal business.
This article has been reproduced in a new format and may be missing content or contain faulty links. Please use the Contact Us link in our site footer to report an issue.