The Cards drafted J.J. Arrington in the second round in 2005 hoping he would be a speedy gamebreaker, but the results have not been there.
Anquan Boldin, Larry Fitzgerald and Edgerrin James have eight Pro Bowls on their collective résumés.
What they don't have is blinding speed.
Each make big plays in their own way, and Boldin and Fitzgerald clearly are a concern for opposing defenses. But when coach Ken Whisenhunt mentioned at the [
](http://www.azcardinals.com/news/draft08.php)scouting combine the Cardinals wouldn't mind finding a running back with "home-run ability," it just underscored a void in Arizona's offensive roster.
Then again, heading into Saturday's draft, finding a gamebreaker isn't necessarily the top priority either.
"Look at the New England Patriots in a couple of their real successful years before Randy Moss and those guys, they didn't have anyone like that (on offense)," Cardinals offensive coordinator Todd Haley said. "The Giants last year didn't really have anyone like that, no gamebreakers per se. I don't think it is a necessity. I think it is a luxury."
Whisenhunt sees it a couple of ways, looking back at his time with the Steelers. Pittsburgh went 15-1 with Jerome Bettis at running back and no real scary big-play threat on offense. Then they won a Super Bowl with "Fast" Willie Parker.
Whisenhunt knows the speculation about the Cards taking a back. Some of it is common sense: James will be 30 at the outset of training camp and has already logged 2,849 carries in his career. The Cards will need to soon think about what happens when James is done.
But James also gained 1,222 yards last season in his grinding style, and as Whisenhunt pointed out, "we were very productive offensively and we didn't have a significant amount of long runs."
Despite the lack of that home-run threat, the Cards still averaged more than 25 points a game.
The franchise has also tried in the recent past to find that breakaway guy, with less-than-spectacular results. Wide receiver Bryant Johnson was supposed to be a speedy deep threat (he ran a sub-4.4 40-yard dash coming out of Penn State) but he never became that guy and was eclipsed by Boldin and Fitzgerald. Running back J.J. Arrington was a second-round pick in 2005 and was supposed to be a gamebreaker (he ran a running back-best 4.4 40 at the combine), but he has never reached that level.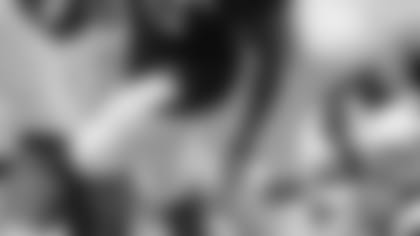 "I think speed is overrated, although when you have that luxury and get the ball to him 10 or 12 times a game … and he has the capability of scoring from anywhere, it's a nice weapon," Haley said.
Having such a player wouldn't change how the Cardinals would scheme every game, Haley said, but it might allow the Cards to use certain plays that they shied away from last season absent such a piece.
With Johnson gone in free agency, the Cardinals should be looking to draft a receiver, and with Boldin and Fitzgerald already in place, a wideout with speed would seem to be the logical target.
But, thanks to James' circumstances and Whisenhunt's talk at the combine, a fast running back is probably more important. Speed is plentiful; eight backs projected to go in the first three rounds are listed with 40-times of 4.46 or better: Darren McFadden, Rashard Mendenhall, Jonathan Stewart, Jamaal Charles, Felix Jones, Chris Johnson, Ray Rice and Matt Forte.
Potential gamebreakers will be available.
"We can be a good running team with the backs we have currently," general manager Rod Graves said. "What we would like to have is a back that is explosive that could provide a threat at any point. We would like that. But is it crucial, is it critical? I don't think those are the words I would use." * * * Contact Darren Urban at askdarren@cardinals.nfl.net. Posted 4/23/08.
This article has been reproduced in a new format and may be missing content or contain faulty links. Please use the Contact Us link in our site footer to report an issue.