Cardinals head coach Ken Whisenhunt (center) and offensive coordinator Todd Haley (right) once worked together as assistants with the Jets.
EAST RUTHERFORD, N.J. – The basketball made it tougher.
Room was already at a premium in the tiny office Ken Whisenhunt and Todd Haley shared in Hempstead on Long Island. The Jets put Whisenhunt, their tight ends coach in 2000, and Haley, their wide receivers coach, in an area Haley figures was only about 10 feet by 10 feet. They couldn't even back up in their chairs at the same time.
With that as their life, the two would also play one-on-one at a nearby gym.
The two ultracompetitive assistants battled – hard. Winner had bragging rights.
When: Sunday, 10 a.m.
Where: Giants Stadium, East Rutherford, N.J.
TV: FOX (Ch. 10)
Radio: News/Talk 92.3 FM (pregame at 7 a.m.)
Loser had some pent-up anger. They'd drive over together, but many times, the loser was so angry he'd take the car back alone and make the winner walk back.
"When you have knockdown, drag-out fights and then you have to go back and sit in the same office together," Whisenhunt said, "it forces you to find a way to get along."
Seven years later, Whisenhunt was hired as head coach of the Cardinals. He called upon close friend and former hoop combatant Haley to be his offensive coordinator.
The Cardinals play the Jets Sunday, the first time the two have coached on the same staff together in a game with the Jets since those formative years.
That season, offensive coordinator Dan Henning gave the two more responsibility than usual in designing and drawing up plays. The two even had a say in what plays would be used on Sundays. Haley and Whisenhunt would stay in their office after midnight many days, laying the foundation of their coaching careers.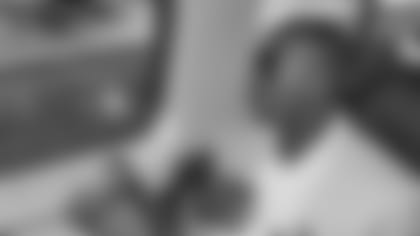 Anquan Boldin and the Cards traveled from Washington D.C. to New Jersey by train Saturday and azcardinals.com was there.
"It was a great, great time," Haley said. "We spent so much time together. When you are trying to think up plays and draw up the cards, it was just a great learning experience for both of us."
Cardinals offensive quality control coach Dedric Ward was a wide receiver on the 2000 Jets and said he has seen both men morph into the coaches they are today.
Ward added that while each man has similar personalities, their backgrounds have touched their coaching styles. Whisenhunt played in the NFL. Haley didn't play in the NFL or college but his father, Dick, has worked in personnel in the NFL since 1971, including more than 30 years with the Steelers and the Jets.
"Having been an assistant coach and now running the whole operation, you have to have a different approach to how you look at the entire spectrum of the team and I think Whiz is doing a good job," Ward said.
"I think Todd, being on the flip side of that and not really playing, and being in a military-style situation where his dad was around the game for a long time, he knows what he is doing x's and o's-wise. But it's a whole different approach how he relays things to the guys, how he talks to the guys."
The 2000 Jets started 4-0 and 6-1, but suffered two three-game losing streaks, including one to end the regular season. That cost the team a chance to go to the playoffs. The Jets fired head coach Al Groh and hired Herman Edwards, and Groh's staff moved on.
The next season, Whisenhunt was hired by Pittsburgh. Haley went to Chicago. Whisenhunt stayed with the Steelers, eventually becoming offensive coordinator, before being hired by the Cardinals. Haley spent three seasons with the Bears and another three in Dallas before Whisenhunt brought him to Arizona.
The two stayed close friends after leaving the Jets, talking to each other a couple of times a week through the years.
(That season) was a great time in your life because you are learning," Whisenhunt said. "We started the season 4-0, we struggled with some adversity. A lot of those situations and those battles, you draw from as you hopefully move up. It was a simpler time in life but it was something from which you learned a lot."
 Including those times on the basketball court.
"I used to know they played, but I didn't know how heated and how competitive it got," Ward said. "Hearing some of the stories now, it makes you wonder how they could co-exist in the same office."
Haley and Whisenhunt still try to play some basketball, although with their increased duties and profiles, it's mostly limited to part of the offseason. It's not one-on-one anymore either, playing with some of the coaching staff – although there are times when the old battles flare up on the court between the two.
"I'm easy-going," Haley said, smiling while feigning ignorance about his on-court passion. "What are you talking about?"
Those attributes are what Ward said drives both men to turn the Cardinals into winners. It's why Haley and Whisenhunt bonded during those days in cramped quarters in Hempstead.
"I know Todd has his moments when he is intense and competitive," Whisenhunt said. "I like that."
The Cardinals added tight end Leonard Pope to the injury list Saturday as questionable after apparently suffering a lower leg injury Friday. The Cardinals are already hurting at tight end with Jerame Tuman doubtful with a hamstring injury that has lingered since before the season. Ben Patrick is the Cards' only other tight end, although the Cards do have Alex Shor on the practice squad.
This article has been reproduced in a new format and may be missing content or contain faulty links. Please use the Contact Us link in our site footer to report an issue.