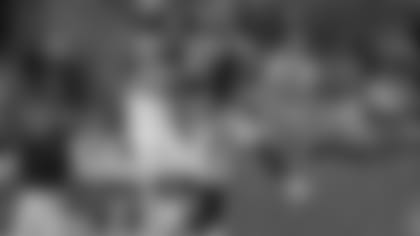 Cardinals cornerback Michael Adams breaks up a bomb intended for Mike Wallace during the Cards' preseason opener last week.

FLAGSTAFF – Three more inches.
Maybe four, and certainly if he had been blessed with another five, Michael Adams would probably be an NFL starter.
But God and genetics made the talented Adams 5-foot-7, a realistically harsh height for any professional athlete, much less a cornerback.
"Every day I could wish for that," Adams said. "But then maybe some of the other things I do well I wouldn't be good at. I think I am a pretty good tackler and I probably wouldn't be if I was taller. I guess being small gives me more heart than I would have if I was 6-foot or 6-foot-1."
Adams has hung around the Cardinals since signing as an undrafted rookie out
of Louisiana-Lafayette in 2007, spending time both years on the practice squad and the active roster. With the turnover at his position this offseason and with draft pick Greg Toler still a raw talent, it is Adams who is officially Dominique Rodgers-Cromartie's backup on the left side.
But the depth chart can be a mirage with 80 men on the roster. With so many safeties available – in the dime packages, the Cards often use four, with just two cornerbacks – and the ability for free safety Antrel Rolle to play slot cornerback, the need for extra cornerbacks is lessened.
When the coaches do begin to sort out their choices, Adams' size – officially, he is listed at 5-8, although he himself said 5-7 -- jumps off the page.
"When they are 5-8 and have the talent like he has, they are more of the exception than the rule," defensive coordinator Bill Davis said. "Mike has a mental toughness and a 'big' mentality that makes him play bigger. He is a fierce competitor and he overcomes the shortcomings he has with his desire to win the down.
"The problem with the size is, 'Can you fight with the big receiver for the high ball?' … To be his size, you have to be rare in other categories."
Adams has to prove himself often. In practice, especially before Rodgers-Cromartie became Larry Fitzgerald's main foil, it was Adams' job to battle Fitz. Adams causes plenty of irritation to those he covers, said receiver Steve Breaston.
"Larry gets tested against Mike," Breaston said. "Mike isn't just this guy you put out there. He can play football."
Adams admits he isn't always so sure. He said no one thought he'd start in high school, get a college scholarship or start in college – all things he achieved. Still, he said, "sometimes I sit around and feel like, 'Is football really for me?' "
Then he has games like he did against Pittsburgh in the preseason opener. The Steelers ran wide to his side with big Rashad Mendenhall on Adams' first play in the game, on which Adams came up to make a solid tackle. Then they went right after Adams, with Charlie Batch lobbing a 45-yard bomb to 6-4 Limas Sweed over Adams.
Adams wasn't rattled. The next possession he knocked down another bomb to Sweed and later, a bomb attempt to 6-foot Mike Wallace, and also mixed in another impressive textbook tackle on a run play.
"That's the most I have ever been picked on since I have been playing football," Adams said.
Said Breaston, "I told him, 'It seems like every receiver over there is 6-2, 6-3 and they were just going up top.' But with Mike, when it comes down to it, when you have been small all your life, you are used to playing at that height."
NFL teams aren't used to keeping players at that height, however.
Adams would be naïve if he didn't think about that, about how exactly he will care for his newborn daughter if football doesn't work out. He's philosophical about his plight – "If they want me here, they'll keep me, and if they don't, they won't" – but will continue to do what he can to make it a difficult decision.
The choice figures to be close. It could come down to inches.
"Until you stop something, teams will continue to pick on you," Adams said. "Once I establish they can't do that to me all game … Hey, I am cool with it. I want them to come at me, because I feel that gives me the chance to show me being 5-7 is not bad on the field."