Newcomer defensive lineman Bryan Robinson (center) was ahead of Alan Branch on the depth chart as training camp practices opened.
FLAGSTAFF – When Ken Whisenhunt addressed a handful of position battles Friday, he noted most situations would be fluid.
Competition, and the chance for players to win a certain spot on the depth chart, has long been the mantra of the Cardinals' coach.
Still, it was interesting to see, with starting nose tackle Gabe Watson sidelined with a knee injury, that veteran and free-agent signee Bryan Robinson was working with the first-team defense while 2007 second-round pick Alan Branch
[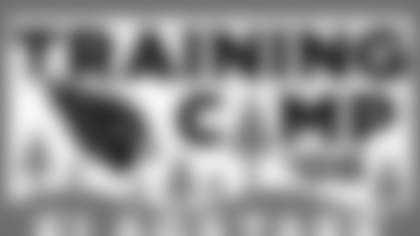 ](http://www.azcardinals.com/news/training_camp.php)
was with the second team.
Branch said he wasn't surprised Robinson was in front of him.
"It's football camp," Branch said. "You've got to earn your spot."
Nevertheless, Branch admitted he feels pressure of expectations from both the team and the fans after the Cardinals traded up to draft him.
"I do," Branch said. "But most of the time I feel (pressure) from myself because I pride myself on being a football player, and being a good one too."
Rookie fifth-round pick Tim Hightower was running with the third team at running back Friday, with Marcel Shipp lining up with the second unit behind starter Edgerrin James.
That left J.J. Arrington, the one-time second-round pick going into the final year of his four-year contract, as the fourth man – which means he may have fewer opportunities to prove to the coaches he can be a factor in the future.
"At some point, every year is a make-or-break year for a player," Whisenhunt said. "We need to see some things out of J.J. He showed some flashes (last year) but what we really want to see more consistent output. Last year at this time we were talking about it.
"It certainly is an important year for J.J."
Whisenhunt, not surprisingly, was pleased with his team's first day of practice, praising an interception by cornerback Eric Green and the general energy by his team.
"I believe there is more of a confidence with our team, a belief we can do it, and I think that's because we had some tangible results last year," Whisenhunt said. "Now, let's make no mistake. We were 8-8. We were an average team. We need to be better than that, but I think they recognize they can be better than that."
Only some of the Cardinals will get to break in the new artificial turf at Walkup Skuydpme. A light special teams workout scheduled for Saturday morning – one that will only include players involved in the special teams units -- was moved inside after heavy rains hit campus Friday night.
---
This article has been reproduced in a new format and may be missing content or contain faulty links. Please use the Contact Us link in our site footer to report an issue.