A big hello to all the awesome Cardinal Fans,
Kickoff time is here for another
enjoyable and exciting football season. Hi, my name is Brittani, I am a native to Arizona, my favorite season is football , and am privileged and honored having been chosen for a second year to represent your Arizona Cardinals. Honestly, it feels great to be a veteran member on such an amazing and dedicated cheerleading team. It is a pleasure to share with you who I am and to thank our tremendously devoted fans.
Looking back on last year as a rookie, my experiences exceeded any expectations I had imagined. I learned quickly, that I wanted to call the University of Phoenix and the Arizona Cardinals home for my NFL cheerleading experience. I learned more than I could have ever anticipated. I still recall my first game, the overwhelming size of the stadium, the massive sea of red and white colors, the smells in the air from the concession stands, the heat from the flames, the pride from the National Anthem, and the overpowering sound of our excited players in the tunnel deafening my ears. The atmosphere and energy in the stadium that day was something I will never forget or experience exactly in the same way again. This year, game day feels like seeing a familiar face while experiencing the excitement and anticipation of what is about to unfold. The dedicated fans supporting the cheerleaders and players sold me on this reputable organization. A year later, I have even more admiration and appreciation for the beautifully gifted women I work with, the talented players, our coaching staff, the Bidwill's, and the fans.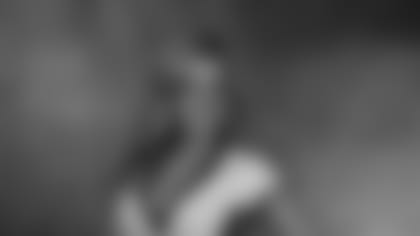 This year is shaping up to be just as adventurous and exhilarating. I am looking forward to meeting all the fans and I am fortunate to have the unique opportunity, along with some of my fellow cheerleaders, to represent the NFL and the Arizona Cardinals in Mexico. We are anxiously awaiting the arrival of this year's team posters to share with you at one of our many community appearances.
I began dancing and acrobatics at the age of three spending numerous hours taking classes, working on routines, performing, and competing dance numbers in tap, jazz, lyrical, modern, and hip-hop. Dancing and cheering is more than a lifestyle for me, it is a part of who I am. It is overwhelming at times that I am fortunate and blessed to enjoy such a lifestyle on a professional level, surrounded by teammates who are intelligent, talented, motivated, and inspiring. These amazing women are more than role models in the community; they are inspiring role models to me personally. For that, I am truly grateful.
Our dedicated cheer team practices once a week for five hours with extra practices thrown in for special performances. A high-energy lifestyle includes cardiovascular training, teamwork, perseverance, team spirit, sportsmanship, discipline, and exuberance. The schedule commitment can be grueling at times, but the hard work and commitment is worth every minute when we hear the approving applause from the dedicated fans.
Aside from the football games, we do numerous public appearances, role model in our community, and give back to the fans and charitable organizations.
When I am not busy with the Cardinals, I spend my time as a junior at Arizona State University, pursuing a major in Early Childhood Education ,and continuing on to obtain a Graduate degree. I am truly passionate about educating our youngest generation. The rest of my precious time is spent with family, friends, and my new puppy Snoop. Thank you to my parents, grandparents, and sister for always supporting me. A big thank you goes to my mom for her advice and guidance. I am who I am because of her. I would also like to thank our coach Heather for her hard work and dedication along with The Cardinal Organization and the remarkable fans, all of whom have become such an integral part of my life and I will forever be proud of and grateful for.
Most importantly, I say thank you to the Arizona Cardinal Fans. You are intensely loyal, supremely dedicated and incredibly worthy of cheering our players on to a victorious winning season. Your team spirit, support, and dedication are contagious, contributing heart and spirit at every game. I am extremely honored to have the opportunity to stand before you and help you cheer on our team on. For that, I offer a sincere thank you. IT'S GAME TIME! GO CARDS!
With Great Respect & Sincere Appreciation,
Brittani
"It's not the glitz of the uniform that matters, but the spirit that shines within it".
Anonymous