Kyler Murray has little left to prove in what has been a successful rookie season quarterbacking the Cardinals.
That doesn't mean he doesn't have something to play for, at least in the way coach Kliff Kingsbury sees it. So while the right hamstring injury Murray suffered Sunday in Seattle casts doubt on whether he could play in the finale at Los Angeles, Kingsbury isn't simply going to shut him down.
"I am so big on reps and mental reps," Kingsbury said. "You just can't compare those (from games). To be in the heat of the battle against one of the top teams in the NFL on the road, those are all reps that could be huge going into the offseason.
"If he's able to play, he's going to play."
If Murray can't play, Brett Hundley would get the start, and the likelihood would be that the Cardinals will promote QB Drew Anderson from the practice squad at some point this week. Murray had an MRI Monday, and Kingsbury said his starter is day-to-day and sore with the same problem that briefly landed Murray on the injury report a few weeks ago. (UPDATE: Ian Rapoport said the MRI showed a regular hamstring pull and Murray will indeed be day-to-day.)
Even if Murray weren't able to go, he's made a strong case for NFL Offensive Rookie of the Year. Murray has completed 323 of 500 passes for 3,397 yards, 18 touchdowns and only 10 interceptions, and hasn't lost a fumble. He's also run for 544 yards and four touchdowns, averaging 6.0 yards a carry.
It's the latter part of his game – and the ability to scramble out of sacks, as he did Sunday with a pair of Houdini-moves to avoid sure takedowns – that would make Murray and the Cardinals hesitant to put him out there if he is less than normal.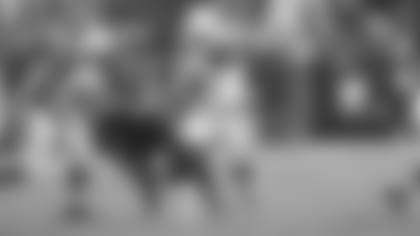 "I feel like anybody in that situation wants to play," Murray said after the game, adding that he wouldn't want to play if "I couldn't be myself."
Hundley said Monday that if he has to start, "really, nothing changes."
"My preparation has been the same," he said. "It's going out and having fun. At this point, that's all I try to do is have some fun. When it is my time to play, it's my time to play."
He admitted he chuckled at the possibility that, if he were to play Sunday, his two opportunities for significant playing time (he briefly mopped up in New Orleans) would be in Seattle – where he was the Seahawks' backup last season – and Los Angeles – the city where he played his college football, at UCLA.
"It's a cool story," he said.
The way Hundley rallied Sunday, from an initial rough three-and-out on his first possession, to a drive that died when Christian Kirk couldn't hold on to a third-down pass, to an eventual TD drive in which Hundley made a couple of nice passes and added in two long scrambles, left an impression.
"Next guy up, no matter who it is," guard J.R. Sweezy said. "You have a game plan, and Brett was a great example of it. He came in and didn't skip a beat. He played his butt off."
Hundley's numbers weren't gaudy in his nearly two quarters of work – 4-of-9 passing for 49 yards, to go with his 35 yards rushing on six attempts – but it was plenty on a day in which the defense dominated the Seahawks.
"To see him go out and execute plays and really just will the team to win … it wasn't always pretty, but he found a way," Kingsbury said.
Hundley didn't appear in a regular-season game while with the Seahawks. He hadn't played meaningful football since starting nine games for an injured Aaron Rodgers in Green Bay in 2017. Kingsbury has given all the practice reps to Murray this season, noting that Hundley hasn't taking a Cardinals' rep in practice within the gameplan for four months.
That figures to change this week.
"There is a lot of stuff that goes into being a backup or just playing football in general in the NFL at the quarterback level," Hundley said. "There is a lot of mental stuff to go through -- it's like the Andrew Luck situation, people don't know what we go through to get to where we are at. For me to get back out there between the white lines, have fun, play and win a game in that type of setting, it meant a lot."