Kurt Warner was at training camp over the weekend for NFL Network, which gave the former Cardinals quarterback a live look at Kyler Murray.
I asked Warner what stood out about Murray in person compared to his college tape.
"I really liked him on tape," Warner said. "I thought he had all the ability. And you always want to verify that when you have a chance to see him in person. To me, I've heard all the things, and I've seen everything that I thought I saw on film. Plenty of arm strength. Obviously great movement skills. The ability to throw with different paces on his football. The ability to get the ball out quick – that is maybe the one thing. When you watch him at Oklahoma and try to assess him, they've got the better team most of the time and the better schemes. Most of his guys are wide open. And so, it's something hard to assess, how accurate is he? How good are his decisions, because he doesn't always have to be on time? But those are things I've really liked watching him at practice."
Here are some other thoughts from Warner on the No. 1 overall pick:
Warner on Murray's accuracy: "The biggest thing is, are most balls within the realm of what their receiver is doing? It doesn't mean you complete every pass, it doesn't mean every 45-yard pass is perfect on the money. But you don't see him overthrow guys by 10 yards. You don't see him throw balls into the dirt. Everything is in the vicinity of the receiver, and that to me bodes well that he's got a chance to be a really accurate quarterback."
Warner on what challenges NFL defenses will present to Murray: "Speed, for one. He's going to see a different level of speed. You don't get to play any patsies in the NFL. Everybody's talented. Everybody's good. Teams will scheme you. A lot of times, at the college level, you don't get to scheme as much and have as many things to throw at a guy that you do at this level. All of those things play into it, and that's what makes this the highest and best level. But again, you just hope he grows the same way defenses grow, or the intellectual part of the game grows. With that, I think he will be just fine."
Warner on Murray developing chemistry with multiple different receivers: "I think the bottom line becomes, even if you do keep seven (receivers on the roster), how do you use all the guys? Do you keep them in certain spots or try to get them to play everywhere? If you try to get them to play all over and run a lot of different routes, that can be a little tougher on a quarterback, going, 'Larry (Fitzgerald) runs a route this way, and Christian (Kirk) runs it this way, and Andy (Isabella) runs it this way.' You have to think about that. But if you keep certain guys in certain spots, where you go, 'OK, now I get reps and I know what they do at that position,' I think that can make it easier. It'll be interesting to see how they play that out."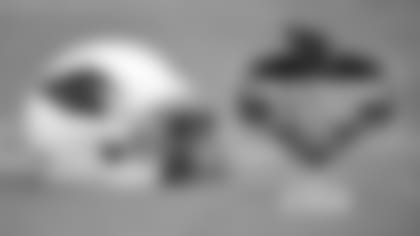 Follow along with all our coverage from camp and find important details about attending open practices on our training camp central page.