Will Davis and Cody Brown have been almost inseparable as rookie teammates
this season, sharing one locker thus far and bonding as both tried to make the transition from college defensive end to NFL linebacker.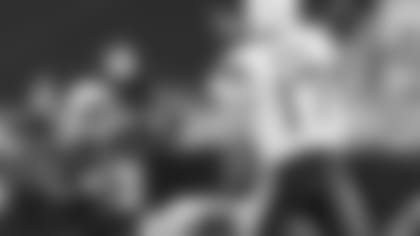 Rookie linebacker Cody Brown tries to put pressure on Chargers quarterback Philip Rivers Satuday night, prior to suffering a season-ending wrist injury.

parallel anymore, though, after Brown – the Cardinals' second-round pick – was lost for the season after dislocating his wrist against San Diego Saturday night. Coach Ken Whisenhunt said Monday Brown was headed for injured reserve.

The dislocation was put back in place, but such a move results in ligament damage, Whisenhunt added, forcing Brown to have surgery at some point after the swelling subsides.

"He's doing good," Davis said of Brown. "It's a downer when you get hurt like that. He doesn't know exactly how long he'll be out. He is keeping his head up, though."

Brown, meanwhile, will have to deal with losing his rookie season and the valuable learning time he needed for a new position.

"He's missing a lot of what he needs the most," defensive coordinator Bill Davis said. "That transition from defensive end in college to outside 'backer in the NFL is a massive one. It's a year to develop in your eyes and your stances.

"It's a shame he is hurt because what he needs the most is every practice rep and every preseason rep. That's how the transition happens."

Davis acknowledged Brown was going to be raw this season anyway, and Whisenhunt said Brown's biggest contribution would have come on special teams. The idea was to bring him along slowly – think Dominique Rodgers-Cromartie or Tim Hightower – and on the depth chart, he was still behind both starter Clark Haggans and veteran backup Victor Hobson on the left side.

Whisenhunt said the original hope was that Brown would miss two months, in which case the Cards would have kept him on the roster just to make sure he wouldn't lose his entire first year.

Now, "we just have to make sure he stays involved as much as he can and hopefully the learning curve will be a lot better next year," Whisenhunt said.

Whisenhunt said he is satisfied with the depth at linebacker. Will Davis, despite his sixth-round status, has left a good impression and regardless of the injury to Brown, seems to be working toward a roster spot. Bill Davis also praised the intelligent Hobson, who played a similar style of defense when he was with the Jets.

"Victor is in a good spot," Bill Davis said.

Hobson said Brown's injury doesn't change much for him, although his place on the roster was likely cemented with the news.

"I still have to prepare just as much as I was and work has hard as I was," Hobson said.

Bill Davis said Brown's progress thus far had been like any of the other rookies – exciting coaches one day, disappointing them other times. That comes along with that steep learning curve that Will Davis now must handle without his sidekick.

"Anytime you lose a guy who is part of your position, there is more focus on everybody else," Will Davis said. "It puts more pressure on everyone."