Cardinals coach Ken Whisenhunt addresses the media Saturday during the annual scouting combine in Indianapolis.
INDIANAPOLIS – The franchise tag has been popular this offseason in the NFL, with 11 teams ponying up to protect their potential free agents.
The Cardinals were one of those teams, tagging linebacker Karlos Dansby. But general manager Rod Graves reiterated Saturday that the tag was simply a "tool" to buy negotiating time with Dansby and "I would still anticipate getting a long-term deal done with Karlos."
Most teams, Graves said, haven't let the top players get to free agency. That's [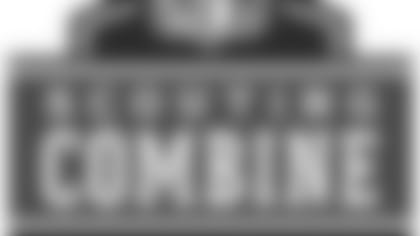 ](http://www.azcardinals.com/fanzone/combine.php)one reason some lesser-known players – like Cincinnati tackle Stacy Andrews and Green Bay defensive tackle Corey Williams – have been tagged.
"I think we will have to evaluate the use of the franchise tag this year with how many of those players are left with the designations after July 15," Graves said, referring to the final deadline for tagged players to get a long-term deal during 2008.
The Colts already shaved the list from 11 to 10 by franchising tight end Dallas Clark and then inking him to a long-term deal a day later. There also doesn't seem to be as much acrimony between tagged players and the teams as there has been in the past.
Dansby, who stands to get a guaranteed $8.065 million in 2008 with the tag, had even said during the season it would be an "honor" to get the tag.
"I think players now understand if you put a franchise tag on them you're saying they are a good football player, you want them around and you're going to try to find ways to work something out," said Bears coach Lovie Smith, who dealt with disgruntled and tagged linebacker Lance Briggs last offseason.
Coach Ken Whisenhunt said he hasn't talked to running back Edgerrin James since a few days after the season, although that isn't abnormal. What Whisenhunt did do Saturday is make clear that James remains a productive running back, even if he isn't prone to breaking a 40-yard run.
"Edgerrin had 1,200 yards last year and any time you can do that in the NFL, you are a good back," Whisenhunt said. "The biggest thing we have to do is find someone to share the load with him. J.J. Arrington is certainly a consideration, as is Marcel Shipp.
"(But) we're obviously always looking to get a young player at the position to hopefully develop and it'd be nice to have a guy who would give us home-run ability."
Asked about possible free-agent-to-be guard Alan Faneca, Whisenhunt said Faneca was a "good football player and we have interest in all good football players." If the Cards were somehow able to reel in Faneca, he would start, likely at left guard, with Reggie Wells moving to the right side. It remains unlikely, given the large contract Faneca is expected to command.
But Graves paused when asked about the number of starters available in free agency as a whole.
"I don't know if it's a sign of how much our team has progressed," Graves said with a chuckle, "but I like more of our guys than I like the guys on the free-agent market."
If the Cardinals lose third receiver Bryant Johnson in free agency, Whisenhunt said it is possible his replacement could already be on the roster, specifically mentioning Jerheme Urban, Ahmad Merritt and practice squad man Jamaica Rector.
But Whisenhunt also stressed he has not given up hope on retaining Johnson – who is expected to get a job as a No. 2 wideout somewhere, along with the corresponding contract.
"I was impressed with the role Bryant played in our offense and we will do everything we can to get him back," Whisenhunt said. "But if we don't, that's what this league is about, an opportunity for somebody else."