Coach Ken Whisenhunt said Kurt Warner (13) will likely start at quarterback in Kansas City Saturday ahead of Matt Leinart (7).
FLAGSTAFF – Kurt Warner didn't play in the first preseason game. Now the quarterback is about to start the Cardinals' second preseason matchup.
Coach Ken Whisenhunt said Thursday he was "thinking" about starting Warner in Kansas City this weekend over Matt Leinart, a decision that sounded all but made.
"The one thing I want to make sure we do is make sure Kurt gets some time with the 'ones,' and I think the best way to control that (is to) … start him in the game," Whisenhunt said. "You just don't know how (playing time) will play out because we haven't decided how long our offensive line is going to go yet.
"In order to get (Kurt) time in a game with those guys and not worrying about
[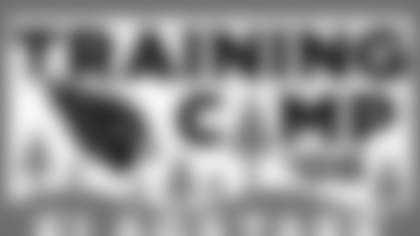 ](http://www.azcardinals.com/news/training_camp.php)
whether that is in the second quarter or later on, I am kind of thinking about (starting him)."
Warner, not surprisingly, is pleased with the development after sitting out the New Orleans game.
"Coach, to his credit, from day one told me it was a competition," Warner said. "You can't see anything that doesn't show that. He has been fair with reps in practice and now starting this game, I am just fortunate.
"I have been in other difficult situations and to get a chance to start, to get a chance to play, to get the reps I am getting, I am exciting. I do believe it is a competition and that's how I am treating it, whether it is six plays, 10 plays, 20 plays, it doesn't matter."
Warner said the possibility of him starting did not come up until this week, a few days after the coaches asked Warner to sit the Saints' game in order to allow Leinart extended playing time.
Warner has been given about equal first-team reps in practice this week with Leinart.
Not playing in the opener was difficult, Warner acknowledged, making this start more exciting for him.
"I never had any inkling going into (camp) that we would go one and one … I didn't really know," Warner said. "I am just ready for my reps whenever they come, however they come and however many there are."
Warner emphasized that he and Whisenhunt have had constant dialogue about the quarterback situation and said Whisenhunt "understands where I am at."
"I am happy to work with whatever timetable he has," Warner said.
Warner added he didn't expect to play a long time, and Leinart is also expected to get work with the first unit offensive line. While Whisenhunt has yet to announce his playing time breakdown, the starting offensive line will likely play the first half.
Leinart said Wednesday – when the quarterbacks apparently at least had an idea Warner would be the starter – he would approach the second preseason game the same as the first, in which he completed 7-of-8 passes.
"I'm sure I will get a little more play time (in Kansas City)," Leinart said. "I just want to continue to get better."
Whisenhunt said he thought both Warner and Leinart looked sharp during Wednesday night's practice (the Cards practice again Thursday afternoon) and that he felt the quarterback position has been one of the Cards' strongest in camp.
Whisenhunt included third-string candidates Brian St. Pierre and Anthony Morelli in his assessment.
In the end, however, it is the Warner-Leinart battle that will grab the headlines, which is only underscored by Warner's return to the field.
"I feel great where I am at," Warner said. "I'm sure it won't be a lot of time (Saturday) but I will take it, try and have some success and keep preparing for the season."
This article has been reproduced in a new format and may be missing content or contain faulty links. Please use the Contact Us link in our site footer to report an issue.