After the Cardinals wide receiver purchased the house about 10 years ago, he found his way to the Austin household. The intent was just to introduce himself. Instead, he found a charitable calling.
Austin and his wife, Tani, co-founded the Starkey Hearing Foundation, and convinced the NFL star to accompany them on one of their trips to other countries to give hearing aids to those who normally couldn't get such help. All these years later, Fitzgerald has taken part in hearing missions well into the double-digits, efforts that will earn him the Foundation's Caring Award at their annual benefit event Saturday night.
"Starkey brought me in as family and showed me globally how to have a profound impact on humanity just by being in touch with the basic needs of humanity," Fitzgerald said in a text message. "From the first time having a person sitting in my chair who couldn't hear to seeing the reaction after they were fit with hearing aids was profound.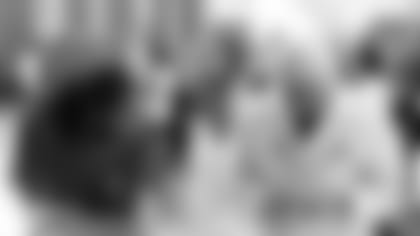 Fitzgerald, who spends part of his offseason back in his Minnesota home, has had multiple charitable efforts he takes part in over the years. His First Down Fund helps breast cancer research and to provide and promote technology and reading proficiency for children who need it. He helps make sure needy kids get sports equipment or scholarships to his football camps. He has accompanied former teammate Anquan Boldin to Africa to raise awareness of drought and famine. He has visited U.S. troops deployed overseas.
The Starkey trips have always been important to Fitzgerald, who is heading into his 16th NFL season.
"Larry has been an incredible supporter of our work for years," Starkey Hearing Foundation President and Board Chair Richard Brown said in a statement. "It is because of dedicated sponsors and volunteers like him that we are able to bring the gift of hearing to so many more people around the world. We are so thankful for Larry's tireless commitment to serve others and help change the world."