​CANTON, Ohio -- When the Cardinals brought Kurt Warner in for a free-agent visit back in 2005, young wide receiver Larry Fitzgerald was asked to attend the dinner at Fleming's, a steakhouse near the team's Tempe facility.
Fitzgerald, still only 21 years old, knew of Warner – the two-time former MVP, the Super Bowl champion -- but he didn't know Warner.
"The first time I formally got a chance to meet him and he started asking me immediately about certain concepts," Fitzgerald said. "He was kind of trying to see what my football IQ was. At that point I was like, 'This guy is sharp. I know he hasn't played much the last two years with the Rams and Giants, but if he comes here, we can be a team -- with our talent offensively, that could be something special.' "
The entirety of Warner's career was special. That's why he's being inducted into the Pro Football Hall of Fame Saturday night, within a class that includes running back LaDainian Tomlinson, running back Terrell Davis, kicker Morten Andersen, defensive end Jason Taylor, owner Jerry Jones and safety Kenny Easley.
Warner's story is well known, struggling to get a foothold in the NFL after successful stints in the Arena Football League and NFL Europe and eventually going from the grocery bagger to leading the Rams to two Super Bowls and a championship with the "Greatest Show on Turf."
As great as his first three seasons were with the Rams, however, the Hall of Fame wasn't realistic. Not after injuries drove Warner to the bench and he spent half a season as a placeholder for Giants rookie Eli Manning.
"Once we won the Super Bowl, you think, 'Now it's going to be easy,' " said Warner's wife Brenda, who will serve as her husband's presenter on induction night. "Maybe it's ignorance. It wasn't easy. It was just as hard starting over in New York … (and) starting over again in Arizona. But that's the best part of the story. People relate to the ups and downs more than a Super Bowl trophy." 
The Cardinals were the one team willing to give Warner a chance to compete for a starting role. Besides, "I just kind of felt it was a match made in heaven," he said. Warner saw that many believed his career was essentially over and would have no more success, just like many didn't believe the Cardinals could be successful.
"I just thought, 'What a perfect fit at this point in my career,' " Warner said.
The quarterback who showed up to Fleming's that March evening and met Fitzgerald was a guy who still believed in himself. He had done amazing things with the Rams. But he needed the Cardinals and his five seasons in the desert. Without them, Warner wouldn't be getting a bust in Canton.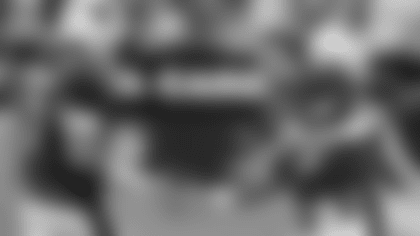 ---
---
Warner's first year in Arizona didn't dissuade the organization from jumping at the chance to draft quarterback Matt Leinart with the 10th overall pick in 2006. With a new stadium opening, a marquee free-agent signing in Edgerrin James and Leinart, the buzz around the team couldn't have been greater.
Even with Leinart, the plan was to have Warner play that season. Coach Denny Green wanted Leinart to sit and learn. That lasted three-and-a-half games. Warner was excellent in an opening win at home. Then the Cardinals dropped three in a row. The team was still woefully short in too many areas in what turned out to be Green's final season.
The second loss all but doomed Warner's season. In field-goal range with less than two minutes to play against the Rams, Warner fumbled the ball away. Replays showed he was hit by pulling guard Milford Brown, but the crowd – knowing Leinart was waiting in the wings – rained boos down on Warner as he went to the locker room.
"By Week 3 I'm getting booed by the home fans in the new stadium," Warner said. "I'll never forget running off that field, thinking 'They don't understand all the things that are going on here.'
"But I hadn't played the way I wanted to play, and I hadn't been able to help the organization turn the corner. It was a tough spot to be in, across the board. … You have to be a team player and accept your role."
The role was to be replaced by Leinart. Warner thought his last chance to play likely evaporated. Later in the season, he acknowledged he was pondering retirement. Everyone thought the torch had been permanently passed.
"There is a lot of stuff that most people don't even know about going on behind closed doors," Fitzgerald said. "The older you get, those type of things, they wear on you a little bit more. When you are 10, 12 years in, you just don't want to deal with the bullsh*t sometimes. I'm just being straight. I think that was a little bit of what happened."
When Ken Whisenhunt arrived to coach in 2007, Warner was told he'd have a chance to compete for the job. Admittedly leery given Leinart's draft status, Warner – after a strange five-game co-quarterbacking situation in 2007 – finally was in place to make what turned out to be his Hall of Fame run.
THE BELIEVER
Todd Haley arrived with Whisenhunt as offensive coordinator. Warner's resurgence came with some tweaks to his game. Some, like wearing gloves on both hands permanently to help grip the ball, were Warner's. Some others were suggested by Whisenhunt and Haley.
When Haley arrived, his perception was that Warner was finished. "I would've said a million times you're over the hill," Haley said he told Warner.
Up close, it was different. Haley said it was obvious Warner was the better quarterback. Having a second-year quarterback who was a top 10 pick made the situation sticky.
"Some coaches worry, about 'Well, Leinart was drafted No. 1,' " Haley said. "That wasn't the way I was taught. That's what happened when I stood on the table (while coaching for Dallas) for Tony Romo of the practice squad over Drew Bledsoe. It gives us a better chance to win. So that was the impetus for (us asking), 'How do we get (Warner) in the game?
THERE WAS NO DOUBT IN MY MIND I WAS THE BETTER QUARTERBACK. Kurt Warner
"There are feelings and issues and money that people higher than me have to worry about, but as the offensive coordinator, I'm like, I want to win. Because if we don't win, we're all out of here anyway."
Players saw it. Then-safety Adrian Wilson, now a scout for the team, said it wasn't just Warner's pure play on the practice field. It was the way Warner had command of everyone, not just the offense but the defense and the scout team as well.
Warner finally got into the game in Baltimore in Week 3. The offense sputtering against a good Ravens defense, Warner was brought in to run the no-huddle package. He nearly led the Cardinals back to a win, despite splitting time with a struggling Leinart.
The plan continued for another game and a half, before Leinart broke his collarbone. The job was Warner's for good until he retired.
"What we saw was some hybrid offense the NFL hadn't seen before where 'OK, Matt is going to start and Kurt will come in and run the quote-unquote no-huddle,' " Warner said. "And that no-huddle would be whatever length of time we needed to be successful and try and win football games."
"There was no doubt in my mind I was the better quarterback," Warner added. "The question was, would there be enough of a gap, or would there be enough there for the coaches to say, we're going to step away from this guy that they drafted a year ago and the organization wants to go in that direction. As a new coach, do I have the strength and courage to go, 'He's the better guy'?"
In 2007, the Cardinals were 8-8. "Had we just stuck with him, we could have easily been a 10-6 football team and been in the tournament and who knows?" Fitzgerald said.
THE TOUGH GUY
Injuries undercut the middle of Warner's career. But it's worth noting the only three seasons of Warner's career in which he started all 16 games, his team reached the Super Bowl. In his last three Hall-defining seasons with the Cardinals, Warner missed only one game with an injury – a concussion in 2009.
"He had been through a lot to get through a lot to get to where he was," then-(and-current) Cardinals linebacker Karlos Dansby said. "He wasn't going to stop because of a little nick on the field. He was a tough guy. Mentally, physically."
He rarely showed up on the injury report in those last few years. A right shoulder troubled him a bit. There was the concussion issue in 2009. He did have offseason hip surgery before the 2009 season. There weren't many who took as many hits as Warner did, in an effort to wait until the last second to make a throw. Most times, he'd jump back up.
"As a defensive player, that's what you want to see," Wilson said. "I call him a calculated tough guy. When he needed to be tough, he could show he was tougher than any of them."
Tangible evidence was easy to find. It came in Warner's first start in 2007 after Leinart broke his collarbone – after Warner had finally gotten the job he craved. Panthers defensive end Julius Peppers landed on Warner's arm, tearing left elbow ligaments. Warner left the game. Amazingly, he didn't miss another.
"I remember going into practice the first day after that and trying to hand off with my left hand and the pain," Warner said. "You try not to show it, but it's like, 'Oh my gosh, I don't think I can do that again.' "
Warner remembered a quarterback with a similar injury using his right hand on all handoffs, even those designed for the left hand. It was awkward-looking, with Warner essentially backhanding the delivery to the running backs on some plays. But it did the job and Warner never missed time.
"That was my mindset. I have to play," Warner said. "I had waited too long and worked too hard and now the opportunity is here, just find a way. The toughness part, you don't even think about it."
Elbow and all, Warner had 23 touchdown passes in the 10 games after.
"I knew that he was a phenomenal passer of the football," Haley said. "But I didn't know what a tough guy he was, and (the elbow) was just one of the things. We all saw some of the hits he took. He is a tough, tough guy. He was no bullsh*t."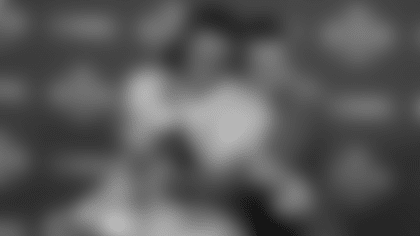 THE LEADER
At one point later in the 2008 season, Warner walked into the locker room after practice. Calling to veteran fullback Terrelle Smith – but ostensibly doing it for other teammates to hear – Warner said "What do we want to be? Are we just happy with making the playoffs?"
The Cards had already clinched their first division title since the mid-1970s, but were in a slump. Warner, who had already been to two Super Bowls, wasn't satisfied.
"I had numerous conversations with some of our leaders and I'm like, 'OK, I don't want to go to the playoffs just to go to the playoffs,' " Warner said. " 'I know it's different for here, but you don't get these opportunities often. I want to do something special. It's going to take something more than what we are doing.' "
It wasn't a simple path. Warner said he would have conversations with coaches about all the flaws the squad had. At one point, the Cardinals were called out as the worst team in playoff history and "there were times I thought that could possibly be true," Warner admitted.
"Kurt was much more vocal than you think," Fitzgerald said. "He couldn't yell at Anquan (Boldin), because Anquan didn't respond to that type of stuff very well. But he knew he could chew my ass and I wasn't going to go back at him. I was going to give him that look and be ready to go. He just knew how to deal with people. That's a skill in itself, one that not a lot of people have."
WE WANTED TO WIN, BUT WE DIDN'T KNOW HOW. THAT MORE THAN ANYTHING, KURT PUT HIS ARM AROUND ALL OF US AND LED THE WAY. Former Cardinals S Adrian Wilson
On the field, Fitzgerald said Warner was unflappable, never looking flustered. That was evident at the end of the Super Bowl run, with Warner leading an emotional comeback picking apart the Steelers – only to have the Steelers win with less than a minute left.
To get there was another highlight in Warner's Canton case.
"Our team was young, without playoff experience," Wilson said. "We wanted to win, but we didn't know how. That more than anything, Kurt put his arm around all of us and led the way."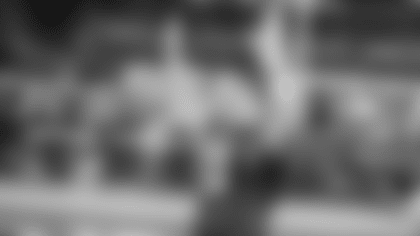 THE HALL OF FAMER
By the middle of the 2009 season, Warner was confident he'd retire after the season.
"There had become such a high expectation and such a level of what I had to do for the team ... week in and week out, that it was starting to affect me," he said.
He told only a couple of people, his wife and Fitzgerald among them, and Fitzgerald did what he could over the last two months of the season to convince Warner to continue his career.
"Of course," Fitzgerald said. "I knew what was to come after that. Selfishly, absolutely. I wasn't foolish. I know in this business if you don't have a quarterback, you don't have much chance to win."
That was why others were blindsided by Warner's decision. Warner was still excellent during in 2009. The Cardinals won 10 games before losing in their second playoff outing in New Orleans. But afterward, Warner stepping away was the beginning of a rough transition for the franchise.
"That surprised me totally," Wilson said. "I was pissed. I'm just being honest. I thought we still had a couple years with him. When we lost to New Orleans … you don't get a sense after a game he's going to retire out of nowhere. You think he's going to come back and be hungry for more. We just weren't ready to handle it. He retired and sh*t went downhill fast."
Perhaps more than anything else, that underscored Warner's Hall of Fame résumé. That and a historic performance in what turned out to be his final home game – a 51-45 Wild Card playoff overtime win over the Packers, in which Warner had more touchdown passes (5) than incompletions (4). His final numbers: 29-for-33, 379 yards, no interceptions.
"Still the most fun game I've played in my life," Fitzgerald said.
Added Warner, "I would argue that was the greatest game I ever played."
His retirement decision all but made – and knowing any further playoff games were likely on the road – Warner made a not-so-subtle 360-degree wave to all the fans as he left the field.
"If you have one more incompletion, you may lose. That to me was the coolest part of it," Warner said. "In that game, we needed every single throw. We needed every touchdown.
"For that to be the last home game … that meant a lot to me. That was a special moment. I tried to go around and acknowledge the fans, knowing it was probably the last time I would set foot in that stadium as a player."
A Hall of Fame performance to cap a Hall of Fame career.
"For a number of years, you go, 'Why didn't it work out perfectly, like I wanted it to?' " Warner said. "Now you see where it led and you see it is unique and different than anyone else's, (and) I step back and say, 'Man, I'm so glad it played out this way.' "