The topic of roughing the passer and quarterback hits had come up Wednesday, and so former quarterback Kliff Kingsbury was asked if he could name the hardest hit he had ever absorbed.
"I didn't get hit much sitting on the bench in the pros," the always-self-aware Kingsbury said.
"But in college, Kyle Vanden Bosch from Nebraska, when they were the Blackshirts -- the kids don't know that Nebraska -- but he was an animal. He got me good."
The game would have been in 2000. It was Kingsbury's first year starting for the Red Raiders, it was Vanden Bosch's last year at Nebraska before become a second-round pick, coincidentally, of the Cardinals in the 2001 draft. The game was in Lubbock. It did not go well for Kingsbury, even aside from the hit. The Cornhuskers won, 56-3.
The funny part was, the Huskers only had two sacks that day, and neither was from Vanden Bosch. (Maybe this was the hit?)
"I don't recall," Vanden Bosch said Wednesday. "He finished the game so it wasn't hard enough. I mean, I've got a big scar on the front on my neck that shows I tried to do that everytime I got a hit on somebody. But I don't recall it. I remember the game, but not the hit.
"Our defensive line had a good game and had several big hits. So it may have been me (Kliff remembers), it may have been somebody else."
Indeed, after the game, Vanden Bosch was quoted as saying "it seemed like Kingsbury was on his back every other play the first few series."
Kingsbury was asked if he had ever said anything to Vanden Bosch. "I was going to," Kingsbury said. "He's kind of intimidating."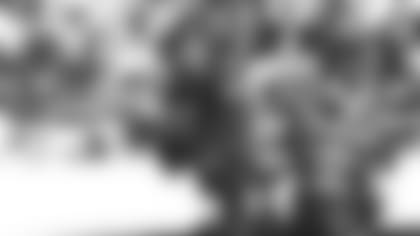 In the larger picture of the roughing the passer calls, Vanden Bosch -- who now works as an analyst on the Cardinals radio network -- noted that he wouldn't be able to get away with a lot of the hits he had on quarterbacks during his NFL career if it was legislated the same now, saying how he often took two full steps before leveling Peyton Manning after a throw got off.
He understands the idea of wanting to protect quarterbacks, but does feel there should be a mechanism to review the calls. (Kingsbury said the coaches haven't changed what they ask of the players; Kyler Murray admitted he appreciates protection as a QB and sometimes wonders why he doesn't get a flag, but understands why defensive players are frustrated.)
"When I was a veteran and a leader in the locker room, a lot of the younger players were so concerned about hits on the quarterback," Vanden Bosch said. "I just told them, 'I would never take back a hit. When you get a chance to hit a quarterback, particularly early in the game, even if you get a flag, it affects that quarterback.'
"I told them, for a $5,000 fine, every good hit you get on a quarterback is worth at least $100,000 on your next contract, and every sack is worth about $1 million. ... GMs are going to watch the tape. They don't want to see you pulling off on quarterbacks."
Vanden Bosch made that happen in Lubbock all those years ago, certainly.
"If he's still losing sleep over it, I guess I did my job," Vanden Bosch said.