Time for Kyler, Chapter 3.
Lions coach Matt Patricia showed a clip to his players earlier this week of Kyler Murray from Week One, the impressive third-and-17 scramble for 25 yards and a first down against the 49ers. The Detroit coach was amazed, but after seeing Murray in his NFL debut a year ago, perhaps not shocked.
"It is a first down in about less than a second because he just has that ability to go vertical, be able to cut sideways, go vertical, change pace, change direction, and the quarterback ran the ball, got an easy first down 25-yards later on third-and-17," Patricia said. "When you have that ability on your (offensive) call sheet because of the players that are on the field, that is a whole other level of difficulty that you have to try and defend against."
It's why Washington defensive coordinator Jack Del Rio said, after being asked his week how his defense can be less tentative in the future, with a chuckle "not face Kyler Murray."
Patricia likened Murray's explosive speed to a good punt returner, a player who can just turn on the jets and get away from tacklers in an instant. And that's what we have seen from Murray these first two games. He already has 158 yards rushing, and maybe that continues, and maybe it just becomes a weapon with which to scare defenses into other mistakes.
But when Del Rio laments a tentative defense, it makes you think of the way Larry Fitzgerald described his teammate's running ability.
"What makes him so tough (is) he's so abrupt when he is running the ball," Fitz said. "He's running at defenders and you have to be cautious because he can slide on you. He has a hesitation move and he can slide off the hesitation move -- he was a baseball first-round pick so he knows how to slide and get himself down -- or he can put his foot in the grass and separate at the blink of an eye. He puts defenders in a really tough position. You don't want to get a 15-yard penalty if he slides, but if you slack off a little bit he'll run right past you."
Fitz called Murray "the most dynamic player in the National Football League right now," and while I could see Ravens fans wanting a word, there's no question Kyler has developed into must-see TV each week.
-- Who Murray will be throwing to is in question. I mean, there will be Fitz and of course, DeAndre Hopkins, who sure seems to be on track to be All-Pro for a fourth straight season. But with Christian Kirk out, who else does Murray look at? Is Andy Isabella really going to get more work? Will KeeSean Johnson be the guy after his COVID time? Might we see more of Dan Arnold? (Or maybe Murray and Kenyan Drake decided just to run all day against a Lions defense that has struggled mightily in that area.)
-- Patrick Peterson wasn't part of last year's Lions tie because of his suspension. He watched the game from his couch, and he's still lamenting the dropped interception of cornerback Tramaine Brock at the end of overtime that probably would have won them the game.
"The thing that stuck out to me the most was when Brock dropped the game-winning pick," Peterson said. "That could've sealed it for sure. He blamed it on his red gloves, but I'm blaming it on his hands, because he has frying pans."
-- A random note on Fitz, on a topic that has been brought up to me before by fans. Would he ever consider running for political office?
"In terms of political aspirations, there are zero, none," Fitzgerald said. "No interest in that. That's how I feel."
Not a shock. He wants to be a businessman at the top of the food chain, working with and running Fortune 500 companies at some point.
-- Adrian Peterson is still around. It didn't look good for him when he hurt his neck against Jacksonville in 2017 while playing for the Cardinals. But then he went to Washington and produced again. And he signed with the Lions after injuries struck this preseason and he's produced when given the chance – 6.4 yards a carry in two games, albeit only 21 carries.
"It's amazing to watch him still play at a high level," Cardinals defensive coordinator Vance Joseph said. "He can still find holes up front, he can still break tackles. DBs still have a problem tackling this guy."
Joseph acknowledged when Peterson is in, he's there to run the ball, although the Lions will run play-action (how much we will see; Peterson missed a big blitz pickup against the Packers last week, leading to an interception.)
I just keep thinking of the flashes we saw of Peterson in 2017 with the Cards, dominating the Bucs and the 49ers in San Francisco. And how tight he was with Fitz.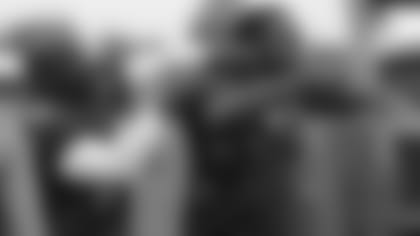 -- Drake has had a few direct snaps this season, not atypical in an offense like Kliff Kingsbury's. But I asked Drake if he was ever nervous about taking the snap rather than having a quarterback deliver it to him.
"Once the play is going, when I have the ball in my hand, I feel like I'm an athlete -- it's not that big of a deal at that point," Drake said. "But practicing before the game, I would have to say the cadence if Kyler wasn't right next to me, and it's kind of funny, you hear the cadence all day long and for me to actually say it, it kind of puts the spotlight on you, and I kind of froze up a couple of times trying to remember what to say to get the play going.
"I don't have trouble with that anymore, so hopefully we can continue to try to have an unblemished record when it comes to getting up there and getting the play started."
-- The Lions are struggling. They have 11 straight losses dating back to last year. And in Patricia's two-plus seasons as coach, Detroit has lost 11 times when they have led in the fourth quarter.
-- Lions tight end T.J. Hockenson against Cards LB De'Vondre Campbell. Everyone wants to see it, right?
-- The Cardinals' defense is No. 1 in the NFL in third downs. The Lions are middle of the pack offensively. Turnovers will matter, but if the defense can fend off Matthew Stafford and get off the field, the Cards are going to be just fine.