Things have not been easy for Urban Meyer, that conqueror of the college game, in his first season in the NFL coaching the Jaguars. And he noted last week to Broncos coach Vic Fangio that in the NFL, it was like playing Alabama every week.
Kliff Kingsbury was a college coach himself. Kliff, what say you?
"I coached at Texas Tech," Kingsbury said with a smile. "Every week felt like (playing) the Dallas Cowboys."
No, Meyer doesn't get the chance to have Directional State U on the schedule to help set up a team for the season (or to build a record.) But for Kingsbury, that's the best part of coaching in the NFL – although again, his college experience at Tech, which certainly wasn't Florida or Ohio State, was different.
"I love it because of the parity," Kingsbury said. "Week in and week out, you have a chance. Any given Sunday you have a chance to defeat that team. That was refreshing for me."
Meyer told Jacksonville reporters this week that he was "not trying to equate" the NFL and college.
"But you take over a team that was 1-10, you take over a team that was 6-7, you take over a team that was 5-7, or you take over whatever it is. Yeah, it's hard, it's really, really hard," Meyer said.
Interestingly enough, this is similar to one of those non-Alabama college games, at least in NFL terms. Yes, Meyer's Jaguars are the team the Cardinals should beat. They've lost 17 straight. They are struggling, they have defensive injuries and they have a rookie quarterback. But it's also an any given Sunday, and the Cards need to make sure they win this game. It's one they should.
They need to make sure they are another Alabama for Meyer.
-- Personally, I think DeAndre Hopkins plays. I don't know if he will. But in the little time he's been in Arizona, this just feels like he'll be OK. (It'll be interesting when and if he ever does miss a game with an injury.) If he does, I think they are going to want to get the ball to him. Often.
-- The Cardinals are seconds in the NFL in points with 72 (the Bucs have 79) and are fourth in the NFL in points per drive (3.0, trailing the Chiefs, Rams and Browns – the latter two upcoming on the schedule.) They had a hot start last year on offense, but if they can score 30-plus a game consistently, there will be a lot of wins. Realistically, can it happen, especially in this division? It might, if Kyler Murray plays like this all season.
-- After all the broken plays succeeding this year, Kingsbury acknowledged he doesn't have much of an ego as a playcaller. That, he said formed when he was the offensive coordinator at Texas A&M and Johnny Manziel was his quarterback.
"When you coach Johnny Football you just take the wins as you can get them," Kingsbury said. "You don't worry about being on-time for meetings or showing up for practice some days. You just get him out there Saturday and just let him go and collect the check. I learned at an early age, if you've got one like that just let him go."
-- It's equipment managers appreciation week, and the Cardinals have a group without peer in the NFL. The amount of work that goes into every day doing such a job is mind-boggling, and these guys have to be around before the players show up in the morning until after they leave. They are about helmets and jerseys and cleats, yes, but they are also the backbone of any practice, snapping balls and scrambling to get the ball to the next "line of scrimmage" so everything continues on schedule. Among dozens of other duties.
So a huge shout out to Mark Ahlemeier (who is in his 41st year with the team), Jeff Schwimmer, Parker Brown, Kirk Muranaka, Jay Razzano and Marcus Lukes. Without them, none of this can happen – at practice, or during games.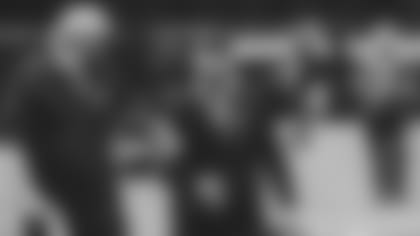 -- Isaiah Simmons is off to a great start this season. The linebacker has already joked with former college teammate Trevor Lawrence about Lawrence letting him get a pick and a sack. I'm guessing Lawrence officially turned him down, but for some reason, I think Simmons will get at least one Sunday anyway.
-- Chandler Jones is still half a sack short of Freddie Joe Nunn's franchise record of 66½. That's another one I think falls this week.
-- Will we see another thigh pad from Kyler Murray with an image of Bruce Lee (maybe not, if the Cards have red pants on. Nevertheless …) Everybody ended up seeing Murray's Bruce Lee pad, but the QB noted he had a second thigh pad designed up in the game.
"The other one was the (K1) logo, but y'all didn't see that one," he said, chuckling.
-- Cardinals fans are familiar with the Jaguars offensive coordinator – Darrell Bevell, the long-time Seahawks OC who interviewed for the Cardinals head coaching job back in 2013, before Bruce Arians got the job. Bevell also attended Scottsdale Chaparral High School.
-- The last word – quote – will go to D.J. Humphries, who was wowed by teammate Kelvin Beachum quoting Aristotle this week.
"I think he said … greatness is not an act, it's a habit," Humphries said. "Damn, I just botched that quote. It was a great quote though."
The real quote: "We are what we repeatedly do, which means excellence is not an act, it's a habit."
Words to live by, really. Whether you are an offensive lineman or not.
-- Time to fly to Jacksonville. See you Sunday.