It felt inevitable, after seeing how Maxx Williams was hit along the San Francisco sideline on Sunday, but the Cardinals made it official Wednesday – the tight end was placed on injured reserve with a season-ending knee injury.
Williams said on Twitter he was "looking forward to being back and stronger next year."
"You never want to see that happen, that's a brother of yours and the way that kind of unfolded for him was very unfortunate," quarterback Kyler Murray said after the game. "He was having a really good season. Just making a play and then football happens."
Williams wasn't the only player put on IR. Key special teamer Ezekiel Turner (shoulder) also went to injured reserve. His return status is unknown.
The Cardinals signed rookie safety James Wiggins to the active roster, as well as opened the practice window for the eventual return of defensive lineman Jordan Phillips (back) and offensive lineman Joshua Miles(ankle). Wiggins can help fill the special-teams void left with the loss of Turner.
They also added three veterans to the practice squad at depth-challenged spots: tight end Richard Rodgers and two former Cardinals, linebacker Joe Walker and cornerback Kevin Peterson.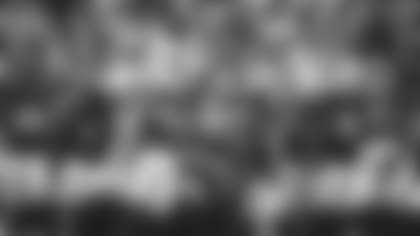 Rodgers played in 14 games with the Eagles last season, with 24 catches for 345 yards and two touchdowns. Rodgers was on the Eagles' practice squad earlier this season. He becomes the second tight end on the practice squad, along with Ross Travis – who had been active against the 49ers.
The Cards got veteran Darrell Daniels back from the Covid list on Tuesday, and also have veteran Demetrius Harris.
"Guys have to step up," Murray said Wednesday. "Guys who have maybe been waiting for an opportunity to show their skills. When a guy goes down, it's an opportunity to make those plays and fill that void."
Williams was indeed having his best season and was well on his way of surpassing his best season marks in catches, yards and touchdowns. Despite going out before halftime of the fifth game of the season, Williams had 16 catches for 193 yards and a touchdown. His best marks came as a rookie in 2015 with Baltimore, with only 32 receptions for 268 yards and a touchdown.
Injuries have plagued Williams – ankle problems limited him to nine games a season ago and he has only played 16 games once, in his first season with Arizona in 2019.
With Williams such an important piece of the offense, the Cards will have to adjust with Daniels, Harris and Travis. Rodgers very well could be part of the game day mix sooner rather than later, given his 145 career receptions.
"That's just what they would have to do, is step up and continue to get comfortable in our offense and how we do things," Kingsbury said Monday. "It was unfortunate Darrell (was) still on the COVID list, which makes it even more tough. I thought Demetrius came in and did his job and Ross has shown some real flashes in the pass game. We'll bring those guys along."
HUDSON OUT FOR SUNDAY; JONES WITH SYMPTOMS
Kingsbury said center Rodney Hudson (ribs) will not play Sunday against the Browns. He also said linebacker Chandler Jones, who went on the Covid list Tuesday, has experienced some symptoms -- players must be asymptomatic plus two negative tests to return prior to 10 days -- and "it would be a stretch" that Jones would be available in Cleveland.