Famously, after DeAndre Hopkins hauled in his "Hail Murray" touchdown against the Bills in 2020, he took to the postgame Zoom interview session to utter his most memorable quote in Arizona.
The Bills, he said, had him surrounded. "It was just a better catch by I," Hopkins said.
There were plenty of times when the wide receiver made the better catch while with the Cardinals. But with the team resetting its roster under a new GM and coach, and with Hopkins carrying a $30 million salary cap charge while missing 15 of the past 26 games between suspension and injury, moving on from the soon-to-be 31-year-old made sense.
After weeks of speculation and the Cardinals unable to find a trade partner, Hopkins was released on Friday.
Hopkins never publicly said he wanted to leave, but he never said he wanted to stay either, and multiple times in national interviews had been willing to talk about other teams or other quarterbacks with whom he was intrigued to play with.
Earlier this week, Hopkins was asked what he was looking for in a team.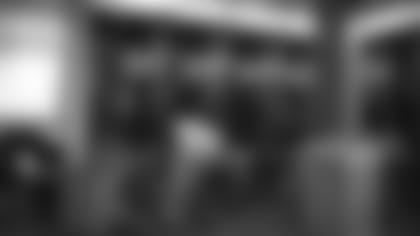 "What I want is stable management upstairs, that's something I haven't really had the past couple years of my career coming from Houston and then to Arizona," Hopkins said. "A QB who loves the game, a QB who brings everybody on board with him, not just himself but everybody around him ... and a great defense. A great defense wins championships."
Hopkins, acquired in 2020 along with a fourth-round pick for a second-round pick, running back David Johnson and a future fourth-round pick, was excellent that first season. He had a franchise-record 115 catches for 1,407 yards and six touchdowns while earning second-team All-Pro honors.
His second season, he missed seven games with hamstring and then a knee injury, although his still scored eight touchdowns in 10 games on 42 catches for 572 yards. His third season was marred before it even started when he was suspended for the first six games of 2022 after testing positive for performance-enhancing drugs.
He played well in the nine games after he returned, making 64 catches for 717 yards and three TDs, but his numbers suffered when the Cardinals incurred quarterback injuries, and then Hopkins sat the last two games of the season with concerns about his knee.
Hopkins had only missed two games in his first eight seasons.
With Hopkins' departure, the Cardinals' No. 1 receiver is now Hollywood Brown, with Rondale Moore, Zach Pascal, Greg Dortch, and third-round pick Michael Wilson the next options on the depth chart.