Sympathy, actually feeling sorry for someone else, has always been scarce in the NFL.
Empathy, however, sharing the same feeling as others, sometimes is abundant.
It certainly is after week one of this season when numerous teams, including the Cardinals, played as if the end zone was a gated community to which they had no pass code.
"In Week 1 you normally see a lot of points being scored," Cardinals coach Jonathan Gannon said. "I don't know what the true numbers of that are, but it seemed like the scores were actually down."
They were. It was the fewest points scored in week one since the 2017 season, according to the Boston Globe. Third-down conversions were down. Sacks were up. And twenty of the 32 teams failed to pass for more than 200 yards.
For the Cardinals, it wasn't surprising that their offense did not score a touchdown and had 114 net yards passing. Arizona State freshmen had lived in their dorms longer than quarterback Joshua Dobbs had been in town. And everyone was playing their first game in a new system.
The surprise would have been producing a bounty of points and yards against what appears to be a stout Washington defense.
Elsewhere in the league, the offensive struggles were startling. Seattle scored just 13 points at home in a loss to the Rams. The Chiefs put up 20 in a loss at home. The Bengals, who made quarterback Joe Burrow the highest paid player in history the day before, scored three points in a loss in Cleveland on Sunday. The Vikings scored 17 points in a home loss to Tampa Bay. The Steelers managed just a touchdown in a loss at home to the 49ers, and the Giants were shut out by Dallas Sunday night in New Jersey.
Those outcomes were eyebrow-arching for a couple of reasons. The NFL has contorted itself for years to boost offensive production, but it's logic in doing so is linear. Fans apparently love it, because the game has never been more popular.
And it was some of the best offenses, and players, that struggled. The Chiefs, Bengals, Vikings and Seahawks all were in the top 10 in scoring a year ago.
"The first tape I turn on in New York (Giants vs. Cowboys), I see the defense is up 16-nothing and I'm like, 'What happened?'" Gannon said. "I think Week 1 is different for everybody. You've got new players, new schemes, new teams, did you play your guys in preseason and injuries—all those things go into it.
"Within the first couple of games, you want to find your rhythm, see what you do well and evaluate that, but the NFL, there are no surprises. Some games are tight and certain ones get out of whack."
Does week one forshadow a drastic decline in offensive production this season?
Probably not. Burrow looked like someone who missed all of training camp with a calf injury. He will soon return to looking like Joe Burrow. The Chiefs are going nowhere as long as quarterback Patrick Mahomes is healthy. Scoring shouldn't be a problem for the Vikings.
Week one's outcomes are probably a result of multiple factors. The rain in Cleveland. The 49ers' good health and loaded roster. Ditto that for the Cowboys, who play the Cardinals in two weeks. But maybe the biggest reason is that weird stuff happens in the NFL every week, especially the first one.
A year ago, the Bears beat the 49ers in Week 1. The Bears won just two more games and the 49ers finished 13-4. The Buccaneers whipped the Cowboys, 19-3, in the first week last season, and the Cowboys finished 12-5 and made the postseason. The Bengals lost to the Steelers in the first week a year ago and now have lost six of their last seven against the Browns. They still played for the AFC Championship two consecutive years.
The Bengals play the Cardinals on Oct. 8. They likely will have things figured out by then, provided Burrow is healthy.
"Nobody is panicking here," Burrow said. "Week 1 doesn't define anybody's season. Obviously, not very good out there. But we've been in this spot before, and we've come back stronger and had a great year. That's what we are going to do."
There was optimism in Pittsburgh, too, but the Steelers' loss is more troubling than the Bengals because it was the continuation of a trend. The Steelers, who play the Cardinals in week 13, scored just 28 offensive touchdowns a year ago, tied for second fewest in the NFL. There were signs of improvement in the preseason, but the 49ers defense showed us, again, the foolishness of believing much of what we see in games that don't count.
Losing coaches on the first weekend of the year sounded as if they were working off the same script. It's understandable. What do you say when your offense doesn't score a touchdown? Or, when you get beat 40-0, as the Giants did Sunday night?
"It's a humbling league," Giants coach Brian Daboll said. "This is an emotional game, guys put everything they have into it. They prepared well, we practiced well and we didn't put it together today. There's a lot of blame to go around and I'll take the head of it."
The good news for the losers is that it was only one of 17 games.
The bad news for the losers is there are only 17.
MAKING A TEXAS-SIZED IMPRESSION
There is plenty of evidence that we should not make every week a referendum on the value of a player or a team. But where's the fun in that? It's especially hard not to fall into that trap after only one week. It's not like we have a body of work to provide context.
The Cowboys beating the Giants wasn't new. Sunday night's victory was their 12th in their last 13 games against the Giants. But there won't be a more convincing win all season than the 40-0 one Sunday in primetime.
"That's y'all's job, to write about whatever statement it needs to be," said quarterback Dak Prescott when asked what kind of statement it might have been.
O.K., then. It was a strong statement.
Defensive lineman DeMarcus Ware didn't pawn the "statement" determination job off on the media.
"I definitely feel like we put the league on notice," he said."We're for real, we're coming."
The Giants play the Cardinals in Glendale Sunday, and the Cowboys come to Arizona the following week. Over the decades, the Cowboys have proven capable of distracting themselves with nonsense. There was a tiny bit of that last when Prescott caused a stir by revealing that he spent 10 hours under sedation while getting a tattoo in the offseason.
Owner Jerry Jones quipped that he was sure glad he had no tattoos. The rest of are glad not to have that mental image pinging in our heads.
Also, 10 hours? A source close to me said a triple cardiac bypass with no complications usually requires maybe 6 hours of sedation. That would seem to be more intricate, but, like Jones, I don't have a tattoo.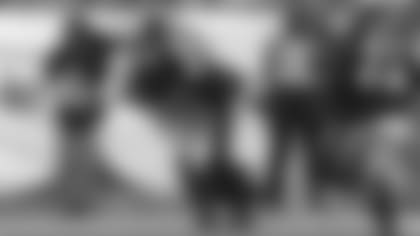 THE NFC BEST?
Speaking of tattoos, the 49ers left an imprint on the Steelers and the result of league, winning 30-7 in Pittsburgh.
The offense was electric, and the defense forceful. It didn't matter that the game kicked off at 10 a.m., Pacific Daylight time. The 49ers would have beaten the Steelers in any time zone. Barring catastrophic injuries, all roads to the NFC West title run through Levi's Stadium in Santa Clara, Calif.
Quarterback Brock Purdy passed for 220 yards and two touchdowns, both to Brandon Aiyuk. And to think the two could have had similar moments at Arizona State had former coach Herm Edwards and staff recruited Purdy out of Perry High in Gilbert.
Purdy didn't have to throw deep for the 49ers to score 30 points. Christian McCaffrey ran 65 yards for a score. Aiyuk scored from 8 and 19 yards out.
Steelers cornerback Patrick Peterson, a former Cardinal, predicted his new team would intercept a Purdy pass or two. They didn't. And Peterson was a defender on Aiyuk's two touchdowns. Afterward, Purdy was asked for details on the two touchdowns.
"The second touchdown on the deep ball, was that on Patrick Peterson?" he asked before adding that he had nothing but respect for Peterson.
The Cardinals play at the 49ers on Oct. 1, a week after the Cowboys game.
RAM TOUGH
There was no more shocking result in week one than the Rams outscoring the Seahawks 23-0 in the second half to win 30-13.
The Rams' personnel losses since winning the Super Bowl in the 2021 season are well-documented. And they were playing Sunday without receiver Cooper Kupp, who is on injured reserve with a hamstring injury.
They missed him, but just a little, thanks to a couple of receivers whose names sound as if they were characters in the movie Moana. Puka Nacua, a rookie receiver taken in the 5th round out of BYU, and Chatarius "Tutu" Atwell, a second-round pick out of Louisville in 2021, each finished with 119 yards receiving.
All 14 Rams draft choices made the first 53-man roster, which usually is a sign that either the existing pool of talent is shallow, or that the general manager (Les Snead for the Rams) knows what's doing. Occasionally, both are true, and that might be the case with the Rams this season.
Does Sunday's victory mean the Rams, who finished 5-12 a year ago, are back? Not necessarily. But does it mean they are a threat?
We might find out Sunday afternoon, when the 49ers come to Los Angeles.