In 2019, Steve Keim tried to trade back into the first round so he could select wide receiver Marquise "Hollywood" Brown and pair him with No. 1 overall pick Kyler Murray.
Three years later, Keim needed a wide receiver in the draft, and after all that, used a first-round pick to get Brown.
The Cardinals dealt their Thursday night choice -- No. 23 overall – to the Baltimore Ravens in exchange for Brown, who starred in college at Oklahoma with Murray and who had 91 catches for 1,008 yards and six touchdowns last season.
The Cardinals also received a third-round pick from the Ravens, No. 100 overall, giving them three picks on Day 2 of the draft on Friday.
The top receivers came off the board early on Friday but "this trade to me would've been done regardless," Keim said after the deal. "It wasn't a knee-jerk reaction. I wanted this player."
The Cardinals and Ravens kept the deal tightly under wraps. By the time it was announced Thursday evening – after the Ravens took safety Kyle Hamilton with the 14th pick – Brown was already en route to Arizona on the plane of Cardinals owner/pilot Michael Bidwill.
Brown, who will speak to the media Friday at a press conference, then made an appearance at the Cardinals' draft party at State Farm Stadium.
The Cardinals also now have the extra pick on Friday. The Cards now have three picks – one in the second round (55th overall) and two in the third, at 87 and 100.
"(Brown) makes sense for a number of reasons," Keim said. "Two years of controlled costs, a dynamic receiver who has played inside and outside, obviously the chemistry with our quarterback, and is a vertical threat."
Cost does make an impact. With contracts of wide receivers exploding – the Eagles traded for the Titans' A.J. Brown Thursday and immediately gave him a new contract averaging $25 million a year -- Brown is entering the final year of his rookie contract and makes only $2.1 million.
Keim said the Cardinals will pick up his fifth-year option – they did the same with Murray on Wednesday – which will lock up Brown for the 2023 season with a $13.4 million guaranteed salary. He also said he does not expect Brown's contract (or Brown's desire for an extension at some point) to be an issue.
But the money is only a small part of the equation. Coach Kliff Kingsbury said he sees Brown filling the role opened by the free-agent departure of Christian Kirk. He joins a wide receiving corps with DeAndre Hopkins, Rondale Moore and A.J. Green, with Zach Ertz at tight end and James Conner at running back.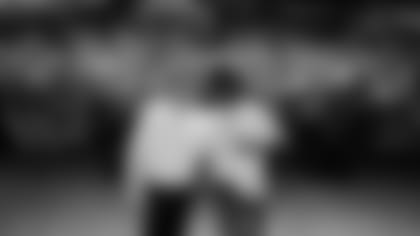 "There are lots of playmakers," Kingsbury said. "When we are distributing the ball, that's when we are at our best."
The Cardinals needed speed at wide receiver – "This guy, it's bombs over Baghdad, he can fly," Keim said – and it certainly makes Murray happy. With the quarterback reunited with his college teammate, Keim said the text he got from Murray was a bunch of fire emojis.
The deal wasn't to appease Murray, Keim said, although that box was checked. Brown runs a 4.32 40, and has 21 touchdowns in three years, with 11 coming from at least 20 yards out.
Wide receiver had been a position many thought the Cardinals might go with their first-round pick Thursday. Turns out, that's exactly what they did.
"It made sense in so many ways for me," Keim said.