The Cardinals had one of the more dominant rushing games in their history on Sunday against the Bengals, amassing 266 yards and two touchdowns on 38 carries. Running back Chase Edmonds had eight carries for 68 yards and a key 37-yard scoring jaunt in the fourth quarter. Edmonds, tight end Maxx Williams, left tackle D.J. Humphries and coach Kliff Kingsbury broke it down in this week's Cardinals Film Room.
The situation: The Cardinals had a first-and-10 at the Cincinnati 37 with 7:21 remaining in the game, leading 16-9.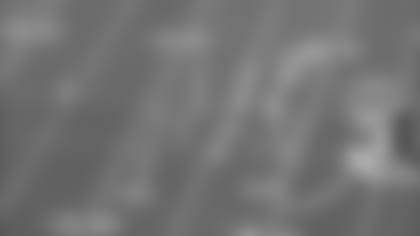 Edmonds takes notice of the Bengals' coverage, which is cleared up by jet motion from wide receiver KeeSean Johnson: "The corner (William Jackson III) is going with KeeSean, so we know we've got man (coverage with a) single-high (safety). My instant read is we're going to down and around, a simple toss play."
Williams won't be involved unless the run play works great: "I personally call it a home run block. I'm trying to get to the last guy so Chase can break it."
Kingsbury said the play was designed for either Edmonds or David Johnson: "We had both guys in mind. We felt like it was a good scheme against these guys."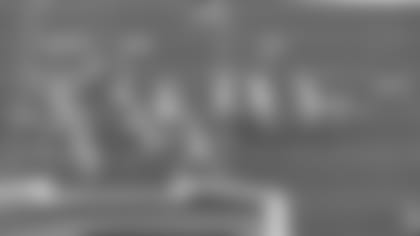 Bengals linebacker Preston Brown gets a good jump, but linebackers Clayton Fejedelem and Nick Vigil take a split-second to react because of the misdirection. Edmonds: "Kliff does a great job of implementing motion just to fog it up for defenses. It's a quick stall. That quick second is all you need to help a lane open up more for you."
Humphries is tasked with a pull block far from where he begins: "Those are the plays that you live for as an offensive lineman. Being able to get out on the edge and have a key block when your guy scores a touchdown, that's like catching a deep ball for me."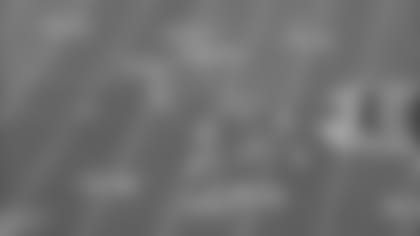 Edmonds' first goal is to sweep all the way around the edge: "I'm reading the tackle. As D.J. is pulling -- really on a toss play we're trying to circle the field (hit the outside), but Cincinnati ends up boxing it and spilling it back in."
Williams briefly abandons his target in case a more involved defender can be blocked: "I overran (cornerback Dre Kirkpatrick) a little bit. I went past to see if there was anyone else. There's not, so I turned back and tried to disrupt him the best I could without doing anything illegal."
Edmonds doesn't like to freelance from the designed running lanes often, but made an exception here: "On a toss play like that, when I know I'm already trying to circle the field but I can't get outside, the minute I see a lane, I go. Because I know everyone else is pursuing. There's only so long until they get to the toss. It's not like this is a counter play where their eyes are funked up. They're all streaming at me, so when I see a lane, I've got to go."
Humphries swallows up cornerback B.W. Webb and no flag is thrown, which made up for earlier errors: "I've got to clean up those other two. We could have had two really positive plays (earlier in the game) and I got blocks in the back on both of them."
Edmonds admires the blocking: "D.J. does a great job of just taking (Webb) where he goes. Pugh does a great job of taking on this linebacker (Brown), so that's why I cut it up. When Fitz is on a (linebacker like Fejedelem), usually with a typical receiver you're kind of worried, but you know Fitz is going to get the job done."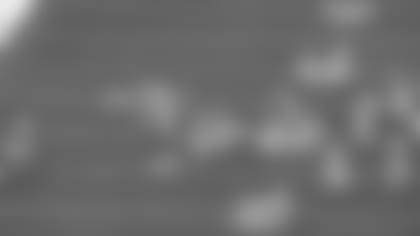 Edmonds has unblocked Bengals safety Jessie Bates zeroing in: "We just practice dip-and-slip, man. Set them vertical and try to get back outside. I made him miss, and you try to outrun the angles from there."
Kingsbury notices the explosiveness when Edmonds makes his cut: "He really hit it well. It looked like he was shot out of a gun there toward the end of that play."
Williams relocates Kirkpatrick: "Here's where I'm turning back. There he is right there. I could line him up and take the shot, but he's really fast so I didn't know if I could get out in front of him. I was trying to disrupt him the best I could."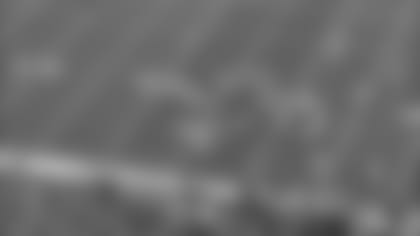 Williams gets the final block to spring Edmonds: "I'm just trying to get in his way. Make his angle change was my goal, hopefully, so he couldn't have as good of a pursuit angle and give Chase that space to run. I'd like to think I did something to help."
Edmonds appreciates Williams sticking with it: "I might have had it, but he definitely for sure sealed it up for me. It was great by him to not get called for a block in the back, because when you're in that angle sometimes, you might not even touch the guy, but if he dives down some ref behind might end up calling a block in the back."
Humphries watches Edmonds cruise into the end zone to cap a banner day: "I'm really proud of Chase. It's not a surprise though. Chase has been running the ball hard all summer. He ran the ball hard last year when he came in and had the opportunities. I'm really excited (for him) to get those opportunities and run it like he runs the ball. With him and David as that 1-2 punch, it's definitely one of the best combos in the league."