The Cardinals intercepted a pair of passes on the shadow of their own goalline Sunday, including rookie safety Jalen Thompson's first career pick on a zone blitz call by defensive coordinator Vance Joseph. It kept the Cardinals ahead by three points with under five minutes remaining, but the 49ers rallied for the 36-26 win. Thompson, safety Budda Baker and cornerback Patrick Peterson broke down the play in this week's Cardinals Film Room.
The situation: The 49ers had a third-and-7 from the Arizona 24 with 4:41 remaining in the fourth quarter, trailing 26-23.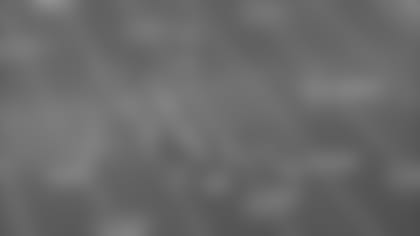 Baker feigns coverage and then bolts toward the line of scrimmage: "I just try to time up the snap count. Usually after someone motions, they're going to snap the ball. I wanted to act like I was showing over the top, helping Pat, and then right before the snap, hit it."
Peterson and the other defensive backs drop into Cover 4: "We expect the ball to come out fast if they don't max it up and protect it (by leaving running back Raheem Mostert in the backfield). We're hoping that the ball comes out quick, because we're in a zone. The four cover guys have eyes, and we are in position to break on the ball."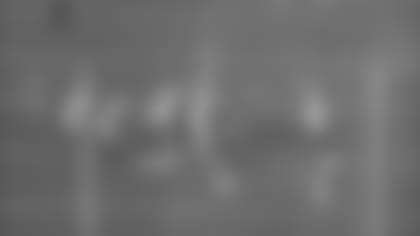 The zone blitz keeps the San Francisco offensive line guessing. Baker: "We mug the 'A' gaps (with linebackers Haason Reddick and Jordan Hicks), and the O-line has to respect that. They're thinking about the 'A' gaps first before a guy rushing the edge."
Thompson prepares to make a quick break: "Budda is really disruptive, so we know when he blitzes the ball should be coming out pretty quick."
Baker gets a free run at quarterback Jimmy Garoppolo, who isn't likely to evade the rush: "Either way I'm beelining for the upfield shoulder, but with pocket passers I have less worry with him getting out of the pocket. So I can run full speed. Now if it was Kyler (Murray) or a Russell Wilson, I would have to break down."
Peterson watches the ball leave Garoppolo's hands: "They did not protect (with Mostert), so the quarterback's making an errant throw with (tight end Ross Dwelley) not really getting into his route. He threw it behind him."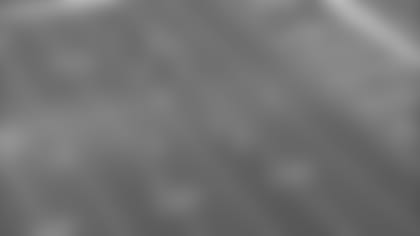 Thompson notices Dwelley get a hand on it: "I could see that it was going to be behind him a little bit. I actually thought Pat was going to get it."
Now it's a tip drill, something Baker says the defensive backs practice at least once a week: "DBs have to have the right mentality when the ball is in the air, whether it's tipped or thrown. Practicing the tip helps (the players understand) the trajectory of the ball, to see where it is going to go. It definitely helped J.T. out."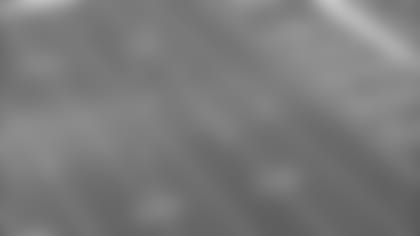 Baker thinks there was a second tip: "Pat told me he touched it."
Peterson confirms: "Just a little bit. Just a little bit to slow it up so J.T. could come up and get the key interception on it."
Thompson flies over: "I was just trying to figure out where it was going to ricochet."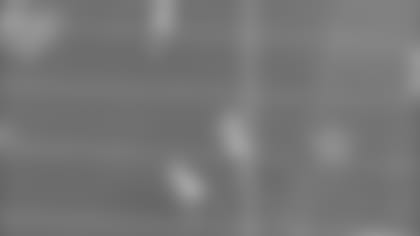 Thompson dives and holds on: "Tipped ball, I knew I was going to have to get underneath it somehow. I just figured out a way to do that. All the ball drills and stuff we do, it helps."
Peterson watches from a few feet away: "I had a perfect view. He definitely caught it. He definitely needed to extend for it, and it was a great, athletic play. It was one of the two key turnovers we needed in the red zone."
Baker has seen growth out of Thompson, one of three rookies in the Cardinals' secondary: "The big thing with J.T. and all of the rookies is they are able to learn from their mistakes. A lot of guys have to get coached twice or three times, but these guys, if they mess up something, they won't mess it up again. That's what I like about these guys. They listen, and the sky's the limit for all of the DB rookies, whether it's Byron (Murphy), (Deionte Thompson) or J.T."
Thompson is asked if he held on to the football as a memento: "Heck, yeah. I'll probably just keep it in my crib. I might put it in a case or something."