Coach Kliff Kingsbury and special teams coordinator Jeff Rodgers dialed up a risky fake punt in the Cardinals' 30-27 loss to the Buccaneers on Sunday. A failure would have been derided, but effective play design and nice execution resulted in a 26-yard conversion on a drive that ultimately ended up in a touchdown. Punter Andy Lee, wide receiver Pharoh Cooper and linebacker Ezekiel Turner broke it down in this week's Cardinals Film Room.
The situation: The Cardinals had a fourth-and-10 from their 36 with 8:39 left in the fourth quarter, trailing 23-20.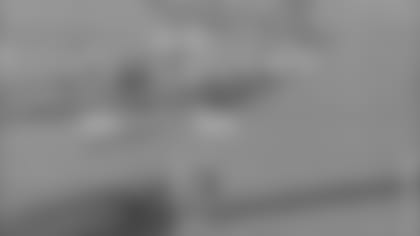 Rodgers brought the trickery to Cooper's attention early in the week: "He talked about it with me on Monday. He didn't have a name for the play yet. I said, 'Let's call it Egypt.' So on the sideline we're calling 'Egypt, Egypt,' hence Pharoh getting the ball.'"
Lee thought the fake would be used later in the season: "When (Rodgers) called it from the sidelines I was like, 'What? I didn't think we were going to run this yet.' I normally get the call on third down. He came up to me and said, 'We may fake this. We may punt it.' I was like, 'OK.' I was probably 10 yards away and I heard him screaming 'Egypt.' I was like, 'Oh, that's the pass. Oh, geez.'"
Turner knew the Cardinals had a long way to get the first down: "I was like, '(Expletive), fourth-and-10, we better execute.' With fakes, it's high risk, high reward."
Cooper is not usually in the game on punt coverage: "When we broke the huddle, I was disguised and we hurried up and ran out (to the line of scrimmage). We didn't want them to call a timeout or see me. It was a quick count so they couldn't figure anything out."
Turner couldn't call hike too quickly, though: "The key to executing is making sure everybody is set. Even though we're trying to hurry up, if I snap it too early, it's a flag and it ruins the whole play."
Turner takes the snap, bolts left, and flips the ball to wide receiver Trent Sherfield. His job was done, but the play was far from over: "There were so many moving parts. We were like, 'Will this work? Will this not work?'"
Cooper pretends to run block: "Zeke gets the initial pick, so we're trying to sell like we're going toss left and get around the outside. Everybody's blocking, blocking, and that's what I'm trying to do right now. Just sell it, make them think it's run."
Lee hangs back: "The hope was a little misdirection so maybe (Cooper) can get lost in everything. Honestly, it was hard for me, because when we first started running it, I was working with it and taking the ball way over here (to the left). As we went, we're like, it's probably better for me to stay back in here because everybody is going to be flowing a little bit away. So it was kind of weird. I was just hanging out. It seemed like it took forever."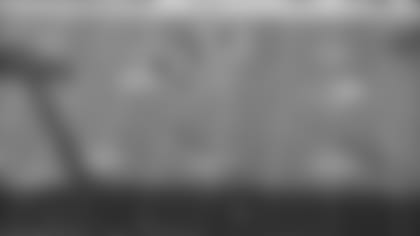 Cooper makes his move: "All week the count was one-count, two-count, three-count, that hesitation. Feel for it and then release. Sell Zeke that way, and then pitch it to Trent to get the defense to reverse back this way. Once they see Zeke pitch it to Trent, they start coming back and I leak out. That's when the three-second count went off my head."
The Buccaners defenders flow back as intended. Turner: "Once I tossed it to Trent, they all went back with him. They must not have seen the toss back to Andy."
Lee keeps his eye on one player: "This guy here (linebacker Noah Dawkins), if you watch on the play, he's crashing pretty hard. (But then) he starts following (Sherfield). When (Sherfield) pitches it to me, I'm looking at (Dawkins), and when he follows him I knew I had some time, versus if he came straight at me. I don't think he saw him pitch it to me."
The misdirection works. Cooper: "You can see this dude right here (Dawkins) chasing Trent, and the ball is in Andy's hands and he's getting ready to throw it. (Dawkins) had no idea what is going on, and in the back end they are confused."
Even with time, Lee doesn't see a wide open target: "Honestly, I got the ball and I'm like, 'He's covered.' I waited a couple of seconds and I was like, 'I'm just going to throw it.' Zeke is technically my outlet, and third would be (Sherfield) coming around, but I don't think I'd ever make it back to him."
Turner hangs out in the flat: "I'm the checkdown, the escape. I was waiting, and I'm peeking at Pharoh like, 'He's kind of covered.' I was getting ready. I would have had to get some YAC (for the first down). I was nervous about (about catching it), and I had my fingers taped up, too. I was just like, 'Please get it off (to Cooper).'"
Cooper is more open than he appears: "Honestly, (safety Andrew Adams) was so lost. It happened to look like I was covered, but when I was sneaking out and running, I was looking in his eyes to see if he was looking at me, and he was still looking in the backfield. Initially it looked like to Andy that I was covered, but (Adams) still didn't know what was going on. Eventually he figured it out after I ran past him."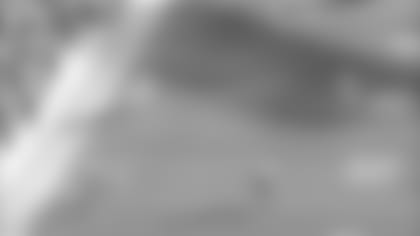 Lee lets it fly: "(Rodgers) has always known I could throw, ever since we were together my first couple of years in San Fran, a long time ago. Honestly, I thought I would be really nervous, but it was actually just fun. It was neat to get to do it. My biggest thing is, I'm just trying to throw it to where he can catch it. I'm obviously not a quarterback. If you think about it, that's probably a 38-yard throw. It wasn't a little dinky one."
Cooper gets a step and looks back for the ball: "Once I got past them, I said, 'Andy better launch this thing.' He launched it, and I saw the defender coming, and I was like, 'Alright, I've got to adjust to the ball.' I was running full speed, so I had to slow down and come back to the ball and just tried to make the best play I could on it."
Turner becomes a heavily invested spectator: "He threw it (to Cooper) and I'm watching like, "Oh, (expletive). Oh, (expletive). Oh, (expletive).' And then Pharoh adjusted and it's like, 'Yes!'"
Cooper fights off pass interference to make the catch: "He tugged me on my right side a little bit, but it wasn't enough where I couldn't concentrate, react to the ball and still make the catch. Maybe if he would have gotten the left side of me, but I came back just enough to get in front of him."
Lee sees the flag: "At first I was like, 'Aw, crap, we're going to get offensive pass interference.' You just never know. When it was defense, I was like, 'OK, we're good.'"
Turner marvels at the play design: "We ran a fake last year, but that wasn't as clever as this. We practiced it and it's like, 'This is a nice little play. It's got some moving parts.' And then seeing it in the game actually work, it was actually a better-designed play than I thought."
Lee knows it was a huge risk: "Rodgers and Kingsbury – I know it was Rodgers' call, but I don't know how the discussion went – it was a pretty ballsy call. I'm glad we were able to make it work out. I think it was an awesome play. When we drew it up, I was like, 'Is it too gimmicky?' But we ran it in practice and it was smooth and looked pretty good. They actually played it pretty well, and it still worked. If they would have been confused at all, he would have been wide open. I think it just goes to show it was a good play call, because they played it pretty well and we still got it."
Cooper had never seen a fake punt so creative: "This was a whole flea (flicker), trick play, double reverse pass back. Jeff came up to me and he's like, 'We've got a trick play where we're going to do (all of that) and you're going to wheel out and I'm going to have Andy throw it. When he said it, I said, 'Andy Isabella? How is this going to work?' Andy's one of our gunners, so I was like, 'Andy Isabella? That's going to work? Can he throw?' He's like, 'Nah, Andy Lee.' I'm like, 'Ohhh, OK. That makes sense.' I'd never seen Andy throw before but if Jeff trusted him, I knew it was fine. And it worked out how it was drawn up."
The Cardinals return to State Farm Stadium on December 1 to take on the Rams. Lock in your tickets today!