The Cardinals' special teams unit let down early in Sunday's game against the Steelers, allowing an 85-yard punt return for a touchdown. It rebounded with a couple of big plays in the second half, including a fake punt conversion to keep a drive alive early in the third quarter. Running back Chase Edmonds, linebacker Ezekiel Turner and coach Kliff Kingsbury dissected the play in this week's Cardinals Film Room.
The situation: The Cardinals had a fourth-and-8 at the Arizona 41 with 11:32 left in the third quarter, trailing 13-10.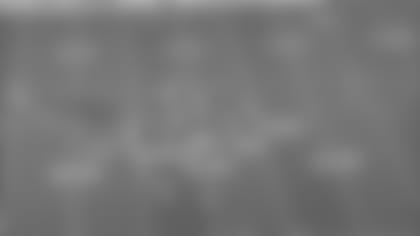 Edmonds surveys the defense before the snap: "Sometimes they have a tendency to go heavy (on the right), and there will be two guys on the left. (Special teams coach Jeff) Rodgers told me (not to audible if the distance was) over fourth-and-10-plus. But if we didn't get a heavy look (on the left), we had the green light to go ahead and run it."
Kingsbury gives Edmonds the latitude to call the fake: "We had it in as a check. Chase checked it and saw it. We carried that (fake punt) for quite awhile (this season)."
Turner's job becomes more complicated when Steelers defensive back Kameron Kelly motions into the play at the last second: "I'm looking at (linebacker Tyler Matakevich) first. When I see (Kelly) I'm like, 'Aw, crap. I've got a little dilemma.'"
Edmonds almost calls off the fake punt after Kelly moves: "It did worry me. I was going to check back out of it, but the play-clock was at, like, 2. I didn't want to burn a timeout, and I didn't want to take a delay of game. He was still far back. If he climbed up, I probably would have taken a delay of game because he was on the line of scrimmage. But because he was sitting back, I felt comfortable with Zeke and (Dennis) Gardeck climbing to him."
Edmonds takes the direct snap and looks for room to run: "You're not worried about the guy guarding the gunner, because he's worried about Trent (Sherfield). His back is already to me. Really, all we need to do is combo here (against Matakevich) and then get up top (to block Kelly). That's exactly what Zeke did. Really, Zeke did a great job of adjusting, because I don't even think Dennis heard the call."
Turner has the toughest task: "I made sure Dennis' guy, (Matakevich), didn't read the play immediately and crash through the both of us. I waited, a quick little pause. We've got a running back behind us, so once he had a step on (Matakevich), he wasn't going to catch him. (Gardeck) sealed that, and I see this guy (Kelly) floating. I'm trying to think of the best way of getting the block, and I just run straight at him."
Turner needs to get a piece of Kelly without blocking him in the back: "Rodgers teaches us that when we see a punter in the open field, just run straight at him. So I knew that with being patient to not let (Matakevich) get through, I was going to be behind (Kelly) a little. So I was like, 'Don't get a block in the back. Just run straight at him and affect him a little bit so Chase can get the edge.'"
Edmonds keeps an eye on the situation: "We were looking to block circle the field, but he couldn't get him just because he was seven yards back. (Kelly) probably saw me already and got a jump, but Zeke got a good enough block where he fell."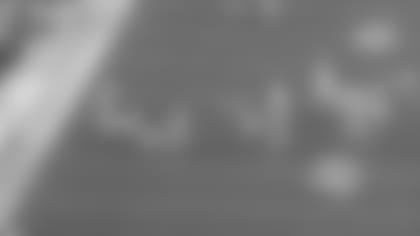 Edmonds hurdles Kelly and looks for the first down marker: "I was just going to react. Once I saw how far the marker was, I was like, 'Damn, I've still got like four or five yards to go.'"
Turner watches from a few yards away: "I thought it was way less than that. So I block my guy, fall down and look up, and see (Kelly) fall. I'm like, 'Yeah, we got it.' And then, 'Oh no. Where is the first-down marker?'"
Kingsbury is nervous Edmonds' momentum will carry him out of bounds: "Oh, yeah. I wasn't really sure that was going to work out for us."
Edmonds needs to duplicate a balancing act he did earlier this year: "Preseason. Minnesota. I tight-roped the hell out of that one. Like 15 yards. It's just instinct. You do anything you can to keep your balance and keep fighting for yards."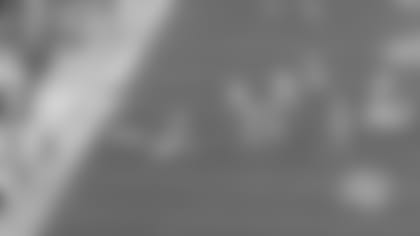 Edmonds makes it far enough: "I was tight-roping, man, and I was so focused on staying in bounds. I even tried to reach the ball in front of my body by the marker."
Turner plays a crucial role in another successful fake punt: "What was that, the second one this year, and then the one last year? One-hundred percent."
Edmonds' gutsy audible pays off: "We practiced it all week, and when you're in the position we're in already, you really don't have anything to lose, bro. Coach Kliff is always talking about going out there and laying it all on the line. We got the look and there was no turning back. It was like, 'We're running this, and we're going to get this first down to keep moving and try to help this team win a football game.'"