The Cardinals ran for 226 yards in Sunday's win against the Browns, including a game-high 35-yard scamper by quarterback Kyler Murray on a zone-read keeper. Murray, left tackle D.J. Humphries, tight end Maxx Williams and coach Kliff Kingsbury explained why the play worked so well in this week's Cardinals Film Room.
The situation: The Cardinals had a first-and-10 at their 33 with 20 seconds left in the first quarter, leading 7-0.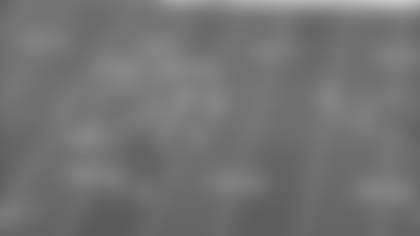 If imitation is the sincerest form of flattery, Baltimore should be flattered. Kingsbury: "I stole this play from the Ravens."
Along with tight end Charles Clay and running back Kenyan Drake, Williams lines up in one spot originally and then shifts before the snap: "You're trying to get the defense in a call they don't want to be in. If we move, they have to change their call. It's trying to get them into a call that we think is ideal for our play."
Beyond the window dressing, Humphries and the others have simple assignments: "It's just a normal zone-read play."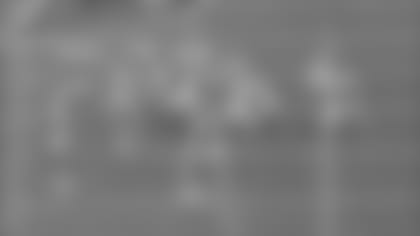 Murray must read defensive end Bryan Cox, determining whether to hand the ball to Drake or keep it. Kingsbury: "Kyler does a great job. It's a read here, and this guy, the defensive end (Cox), kind of steps down and gives him his lane. … He does (a good job making zone read decisions). Every now and then – it's similar to Lamar (Jackson) if you watch Lamar – it's not always perfect, but they want the ball in their hands. For that first guy, it's hard to retrace."
Humphries and the other blockers set up running lanes for both Drake and Murray: "We leave (Cox) unblocked. Clay is going to block (linebacker Joe Schobert) right here. Me and (guard Justin Pugh) will double team to (linebacker Mack Wilson) right here. Luckily I was able to get (defensive tackle Larry Ogunjobi's) hip good enough, because I had to leave Pugh. I kind of left Pugh out to dry because the linebacker played downhill."
Williams doesn't know if Murray will hand the ball off or keep it: "I'm not worried about what he's doing. I'm blocking the play for Kyler pulling it. I'm not worried if he pulls it or gives it. I'm just going to do my job and let him make the decision on the backend."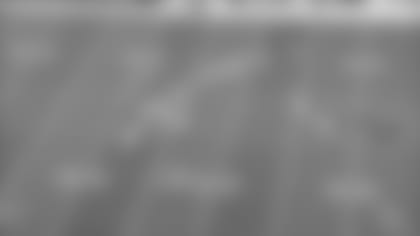 Murray keeps it, and the blocking sets up perfectly. Humphries: "That's the look we want. It's crazy. All year I've been missing this block when he pulls it, because I've been focusing on the three technique so much. I've always missed this block for him for the zone-read. (The linebacker) is usually scraping super far over the top because they know Kyler can pull it and run, so he hangs back and makes my angle hard. This is really the first time I was able to get it and lock that 'backer, because (Wilson) played so hard downhill. … We've been running the ball (well with Drake), so they're trying to stop that run. They look at that cheese too much, and Kyler takes advantage of it."
Kingsbury often weaponizes Murray in the run game: "It's tough on (defenses). That's the extra man in the blocking scheme you pick up. When he can make people miss in space like Kyler can, it definitely adds a different dimension."
Williams contains Browns safety Justin Burris to give Murray a wide lane: "It was just a well-executed play. Obviously it was a good call by Coach. It was good execution. We blocked it up well."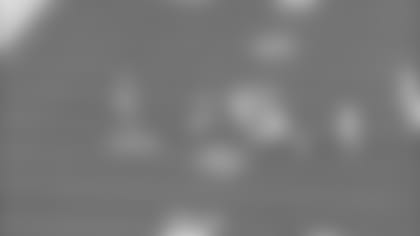 This is one of Murray's eight carries in the game, tied for his fourth-most of the season: "Scheme-wise, with the guys they were down – Myles (Garrett) and Olivier (Vernon) – I told (Kingsbury) I was going to do whatever today. If that involves me running more, it is what it is."
Williams finally figures out Murray is the ballcarrier: "I didn't know he pulled it until he started running by me. That's what a lot of the zone-reads are. You don't even know, you're just doing your job, and the next thing you know, the running back is breaking it or the quarterback has it."
Kingsbury applauds the work of Williams, Clay and wideout Larry Fitzgerald: "It was well-blocked, and Kyler does the rest."
Murray bursts through with one defender to beat: "The safety (Sheldrick Redwine) had an angle on me. That's why I had to cut it back."
Kingsbury watches his quarterback improvise: "I thought he was just going to keep running, but he kind of got creative there at the end."
Williams tries to aid Murray with a downfield block, to no avail: "I'm back here trying to catch up, but I ain't going to catch him. You know that."
Humphries also isn't giving up: "When he's taking off, I see him, and I can tell I need to get into the fight. You can see us try to get downfield and block. When he tries to cut across the field, he's kind of waiting for us to get down there. But he's running so fast. Us linemen, we can't really catch up to him. He had to basically run straight back toward the sideline for us to be able to catch up to him."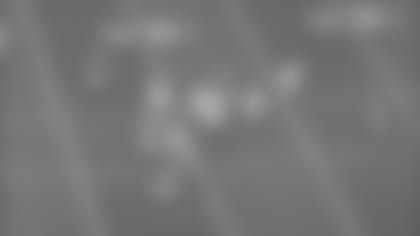 Murray nearly gets away but is tripped up by Browns cornerback Denzel Ward: "I thought I had a chance."
According to NextGenStats, Murray accelerated from 0 to 15 mph in less than two seconds on this run. Humphries: "There are not very many that can do that. It's super dope. When he can use his skills to their full potential, it's amazing to see. It's just super cool to be a part of it."