It has been a slow start to Andy Isabella's NFL career, but the rookie wide receiver's tantalizing skillset was on display in the fourth quarter Thursday against the 49ers, when he took a pass 88 yards to the house. Isabella, quarterback Kyler Murray, wide receiver Christian Kirk, left guard Mason Cole and coach Kliff Kingsbury dissected the play in this week's Cardinals Film Room. 
The situation: The Cardinals had a second-and-8 from their 12 with 5:09 left in the fourth quarter, trailing 28-17.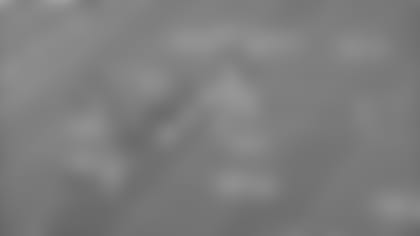 Kingsbury tells the team not to huddle: "We went tempo here trying to get some things going. We knew we could hopefully get Andy across with speed. We didn't know they were going to play man coverage."
Isabella notices it's not zone: "When I lined up I knew it was man right away, just with how the corner (Emmanuel Moseley) was pressed up and just from the (look of the) defense."
Cole prepares to sell the run: "We knew it was play-action, so we could be aggressive on our pass protection. Me and A.Q. (Shipley) were doubling (defensive tackle D.J. Jones) and we had the Mike (linebacker Fred Warner on a blitz). It's a pretty base protection but it's one of our favorites because we can fake the run a little bit and get those guys stoned at the line of scrimmage. And it gets the 'backers to bite a little bit with two backs in the backfield."
Cole and the other linemen hold their blocks: "That's exactly what you want. That's the most ideal scenario. When the quarterback's got eight yards to play with back there, big things can happen. We've just got to do it more often."
Murray has time to find Isabella: "Got him in a man look, which is what we wanted. Tempo always slows down the rush, and obviously for us that was big. Seeing man, him running across, I know Andy's fast. I've been with him for the last couple of months, so I knew what I had in him, and he was my first read."
Isabella cuts across the middle of the field: "Right when I broke, I'm like, 'Oh, I'm open.' He kind of held on it for a second and I'm like, 'Oh, no, it's closing.'"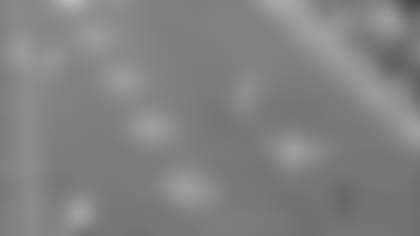 Isabella doubts the ball will reach him: "At first I was like, 'Aw, he didn't throw it.' And then he does, and I'm like, 'Aw, it's about to get picked.' In my mind I was like, 'Damn,' but it went right over his hands. It was crazy. He let it loose and it was the perfect pass."
Cole marvels at Murray's throw: "I didn't see this until after the game, but, I mean, unbelievable."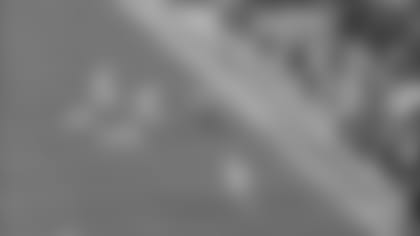 Cole watches Isabella turn a nice gain into something more: "For Andy to do what he did after he caught the ball, he's pretty close to the sideline, right? Just to stay in-bounds and have the vision to cut back (was impressive.)"
Isabella shakes cornerback Richard Sherman and safety Jimmie Ward: "I was just trying to get as many yards as I could, and then I saw them over-pursuing. So I was like, 'Oh, this could be a bigger play.' I think they were almost in panic mode that we caught it, so they were over-pursuing."
Kirk prepares to help out: "Right when he cut back (I knew it had a chance to be a touchdown). He started running toward me."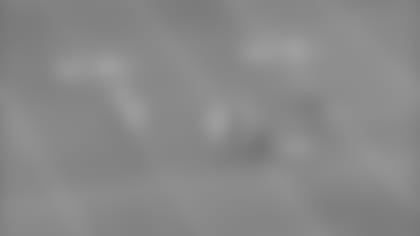 Isabella hits full throttle: "At first I thought touchdown, and then out of the corner of my eye I saw (Ward) and I was like, 'Oh, crap, I don't know if I'm going to make it.' My legs started giving out on me. I saw so many guys in my periphery that I had no idea what was going on. I just had to run."
Isabella's speed was a major reason why Kingsbury wanted him in the second round of April's draft: "He can really run. He can run with anybody in the league, and showed it on Thursday."
Kirk gives him the space needed by knocking Ward off-balance: "I was just making sure I got the block that helped extend him into the end zone."
Cole appreciates Kirk sticking with it: "He really just got a hand on that guy, but I really think if he didn't get a hand on him, Andy may have gotten caught. So a really good job by Christian."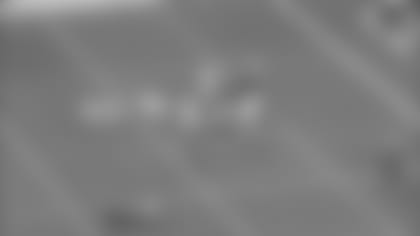 Kirk notices Isabella circle his left arm near the end of the run: "He does that when he gets a little tired. It was a long run, and he's got little legs, too. He was fast enough to get in the end zone, though."
Isabella can finally celebrate his first NFL touchdown: "I wasn't feeling good until I was in the end zone. I think I was so tired that I threw (the ball). I don't know where it is. I think Larry (Fitzgerald) might be hiding it somewhere."
Kingsbury was thrilled to see Isabella make the first signature play of his career: "Awesome for that young man to break out like that. He's really worked hard and has a bright future ahead of him. It's a huge confidence builder to do it against one of the best defenses in the league, just to let him know he belongs on that stage. It was a lot of fun for us to see."
The Cardinals return to State Farm Stadium on December 1 to take on the Rams. Lock in your tickets today!