The Cardinals' rushing attack has noticeably improved the past two weeks. Running back David Johnson had his best game of the season on Sunday against the Raiders, carrying the ball 25 times for 137 yards. His biggest gain was a 53-yarder in which textbook blocking gave him a perfect path. Left tackle Korey Cunningham, center Mason Cole and guard Mike Iupati explained how the lane developed in this week's Cardinals Film Room.
The situation: The Cardinals had a 1st-and-10 from their 30 with 7:03 remaining in the fourth quarter, trailing 20-14.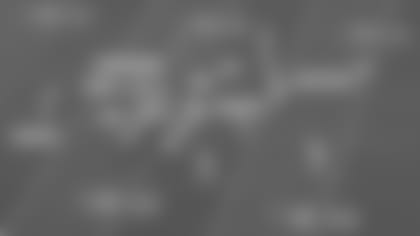 Cole and the others wait to see where Raiders linebacker Tahir Whitehead lines up: "We knew this playside linebacker (Whitehead), there was a chance of him getting on the ball. He did that a lot. This play he didn't."
Cunningham must figure out if he has one man to block or two: "I'm looking at (defensive end Arden Key) but I'm also looking at the linebacker (Whitehead). If he's going to be outside, that means (Key) will probably slant inside. But I didn't see that, so I would just have a one-on-block with (Key). If he would have come inside, me and Mike probably would have double teamed up to (Whitehead) on the outside and try to wash it all out."
Iupati has the combo block duties: "If (Key) is tight, it's going to be me and Korey. Instead, I double-teamed (Hankins) with Mason and went to the 'backer."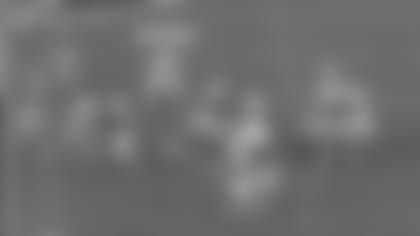 Cunningham gives Johnson a nice lane: "This guy has outside containment, so you want to take a good step. The step you take is going to widen him out. That's mainly what caused him to stretch out."
Iupati chips Hankins and heads for Whitehead: "The running back is coming downhill, so we wanted to take care of (Hankins) first and then leak out to him. It's all about trust. If (Johnson) sees (Whitehead) not blocked yet, he might bounce it."
Cole doesn't want to block Hankins to either side: "It's an inside zone, so there's a good chance that ball cuts back. I'm really just trying to cover up that nose and hold him up."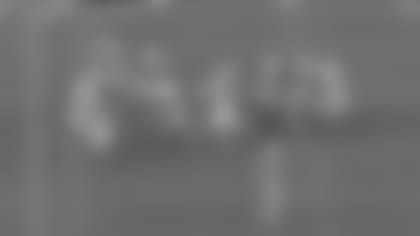 Cole keeps Hankins from getting a hold of Johnson: "I just felt the nose reach and figured that was where David was going. I was able to cover him up, and Mike, Larry (Fitzgerald) and Korey all did a good job on the play-side."
Iupati gets to the second level and blocks Whitehead, which is easier said than done: "There is so much athleticism now. It's crazy."
Cunningham knows the blockers gave Johnson a great lane: "This is a picture of what happens when everybody does their job. You've got Mike being physical on this level, you've got Larry – it's always good to see a receiver being physical and blocking in the run game – and so it's a well-oiled machine."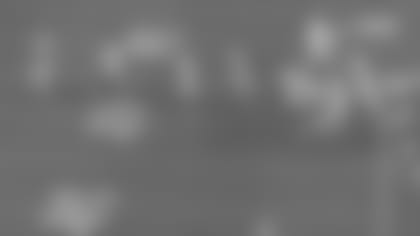 Iupati watches Johnson hit top gear down the sideline: "It's all about covering your guy. The running back will do the rest."
It is the biggest play of the season on the ground. Cole: "I thought he got tackled out here but the play kept going. That's the whole key to the run game, is keeping at it and hoping you wear the defense down a little bit. Those 5-, 6-yard runs take a toll on the defense. Sooner or later, you're going to spring a big one like this."
Raiders safety Karl Joseph has the angle and makes the tackle, but Johnson reaches a speed of 20.64 mph on the run, the fourth-fastest of any ballcarrier in Week 11. Cunningham: "Really? I did not know that. It doesn't surprise me. When he ran past me, he was moving. I really thought he was going to be in the end zone, but we still got a good play out of it."
Cole believes Johnson's running style is deceptive: "He's got a little bit longer stride which you don't normally see in a running back, so he may not look as fast, but obviously he is fast. I remember after the play he said, 'Dang, I should have scored.' But obviously if he was one of the fastest in the league, there was nothing more he could have done."