As big road underdogs heading into Sunday's 26-14 loss to the Chiefs, the Cardinals had to push the envelope. They took a big swing in the first quarter -- right after an impressive touchdown drive -- when a surprise onside kick was attempted. The play was executed nicely, but the ball eventually bounced out of bounds and stayed with the Chiefs. Kicker Phil Dawson, linebacker Zeke Turner, safety Budda Baker and coach Steve Wilks talked about the near-recovery in this week's edition of Cardinals Film Room.
The situation: The Cardinals were kicking off from their 35 with 8:03 remaining in the first quarter, tied 7-7.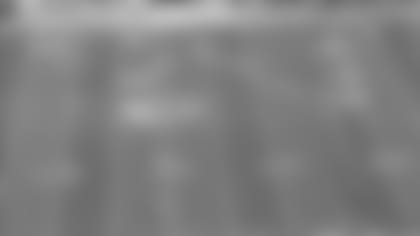 Wilks has this call in mind all week: "We were going to be aggressive. We were not going to put our hands in our pockets."
Dawson surveys the Kansas City alignment: "We wanted to make sure (linebacker Ben Niemann) was inside the numbers, which he was. If you notice, he's 16 yards from the ball. We also wanted to make sure this second level guy (running back Damien Williams) had his normal depth. We had the ability to move out of this once we got on the field if they didn't give us the look we wanted. But we lined up, they gave us the look we were looking for. We were trying to put the ball outside the numbers, right there, which is right where it went. This guy (running back Spencer Ware) was really wide, so we felt good about the look."
Dawson gives the recovery team a great ball: "That's a kick I've had in the arsenal for a while, so it wasn't necessarily that difficult. It's more about pace. If you hit it too fast, it can get to the receiving team too quickly. If you hit it too slow, now your coverage team can over-run it. The difficulty is hitting it with the right pace. But that looks pretty good right there. I felt really good and the guys looked like they got a good get-off on it."
Baker gets in good position and keeps an eye on the 45-yard-line: "I got there and I was just waiting for the ball to hit 10 yards, because I didn't want to touch it early. By the time it hit 10 yards, they were closing in. It's very hard (to wait) but it makes no sense to try to touch it before it goes 10 yards."
Turner hangs back: "The three in the middle (Baker, safety Rudy Ford and fullback Derrick Coleman) went straight for the ball. The two ricochet guys were me and (linebacker) Dennis (Gardeck), wherever it bounced."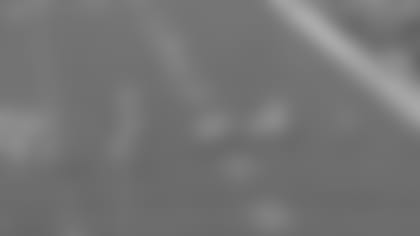 Baker arrives at the same time as Niemann and Ware: "It touched my hands, and then those two guys collided and it slipped out."
Turner waits for a deflection: "I saw (Niemann) come forward and take his chance to try to catch it at 10 yards. So I was like, 'OK, it's not going to go backwards.' With him coming forward trying to get the ball, it was going to go somewhere forward. I tried to redirect and see where it was going."
Dawson knows the Cardinals have a chance at recovering the ball: "This is the best we could hope for, a scrum that we wound up getting. The guys executed their assignments. We had some guys following behind in case of the deflection. We had some guys trying to take out their other guys. From a scheme and execution standpoint, I think this play is a perfect example of both sides doing their job."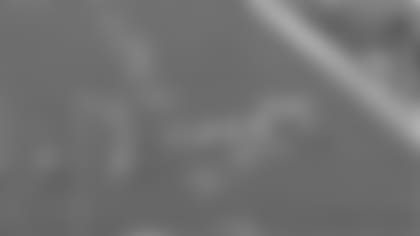 Baker gets crunched but hopes a teammate can corral it: "At that point, we knew it went 10 yards. Now it's time for someone to try and jump on it."
Turner has some ground to make up: "It ended up going wide over there. I'm like, 'Damn.' I tried to react and race to go get it."
Dawson is happy with the 50-50 nature of the loose ball: "That's a beautiful picture right there. That's a ball we hope we can get. But you've got to give them some credit as well. (Williams) responded pretty well to it."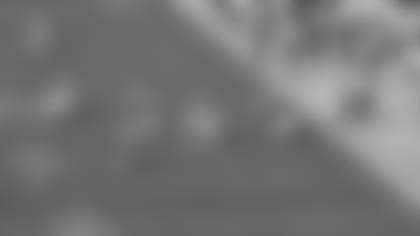 Turner dives but the ball flutters out of bounds: "I saw (Williams) over here running with me. I tried to rake it in, swipe it in. If I can find a way to grip it and bring it into my body, then that would have been good. Anything to keep it in bounds. We had a chance to get it. Game of inches."
Despite the result, Dawson is happy there was no apprehension: "In my career we've had coaches before that will tell you that this fake is up, this surprise is up, and when you get to the game you never run it. This past week, this is something we worked on a lot. The coaches said we were going to run it, and sure enough, here we are. I believe it was the second kickoff of the game. I loved the aggressiveness. People will say, 'Oh, there's never a good time for it.' Well, they only say that when you don't get it. We went to Kansas City with a very aggressive mindset and we were trying to win the game. These are the kinds of things you need to give it a rip and try."