The Cardinals' defense had issues on Sunday, but through no fault of outside linebacker Chandler Jones. He finished the game with five tackles, two sacks, two forced fumbles and a fumble recovery. The first strip-sack and recovery came on the game's opening drive, which likely saved the Cardinals at least three points. Jones, defensive end Zach Allen, cornerback Chris Jones and coach Kliff Kingsbury broke down the play in this week's Cardinals Film Room.
The situation: The Panthers had a third-and-5 from the Arizona 15 with 10:55 remaining in the first quarter of a scoreless game.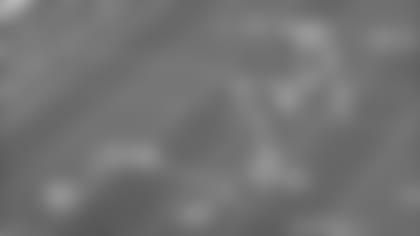 Allen is pretty sure the Panthers will be throwing the ball: "Through the breakdown you can kind of see it's pass. You can kind of see the tackle (Daryl Williams') back foot. He's really far back because he's trying to kick out. And the offensive line is backed up, so playing the game you kind of get used to that. You know in this situation they're going to pass it."
Chris Jones prepares for a 1-on-1 assignment against Panthers wide receiver Curtis Samuel: "Third-and-5 and (tight end Greg) Olsen's on the ball. The receiver (Samuel) is off the ball, so I'm thinking he is going to do something short and Olsen's going to do a deeper route, because that's usually how it plays out. So I'm thinking hitch."
Chandler Jones chops down on the hands of Panthers right tackle Taylor Moton to get the advantage: "I anticipated him punching, so I just tried to beat his hands. The guard (Trai Turner) kept coming out and chipping, so I knew I had to go fast. If I was late, he would have had time to chip and then come back and beat me here."
Allen does a bull-rush so Panthers quarterback Kyle Allen cannot step up: "We're in the red zone, and in the red zone, you really want to create a tight pocket and make it tough for him. We know they're going to get points, but we want it to be three points instead of seven. We just want to create a tight pocket, so everyone here is focused on bulling it and trying to condense the pocket."
Chris Jones deciphers Samuel's route: "I'm ready to drive on it if he stops, because it's third-and-5. If they throw a little hitch, that's an easy first down. I give myself two, two-and-a-half seconds (to wait for the hitch). After that two-and-a-half seconds, I can still be calm and easy with the backpedal. I remember him running a fade, so I'm looking at him out of the corner of my eye and looking at the quarterback at the same time."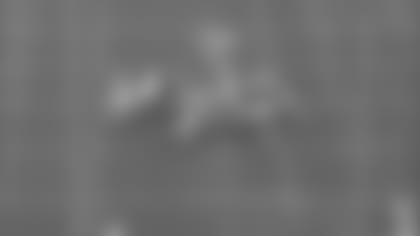 Allen doesn't get to the quarterback, so he jumps to interfere with the potential passing lane: "I saw (Kyle Allen) was taking his hand off the ball and his eyes were looking that way. I knew that unless the lineman fell, I had to try to affect the play some way. I just decided to throw the hand up, and luckily he double-clutched it. If you give Chandler a couple seconds, he'll get there. And (Terrell) Suggs was also pretty close."
Chandler Jones changes his mindset as he gets around the edge: "I saw that he wasn't getting ready to throw it any time soon. Usually that's when I try to get him down (if the arm is in motion). I saw that I had time where he wasn't winding up to throw it, so I just went for the ball to get it out instead of trying to tackle him down."
Kingsbury points out a built-in advantage Jones has when he approaches quarterbacks: "You can see he's so long. He gets those levers (stretched out)."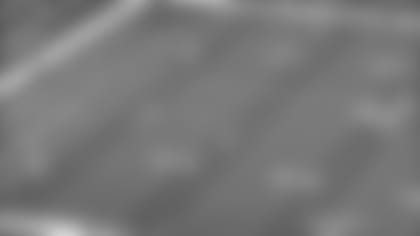 Chris Jones awaits a possible pass: "I see Kyle look my way. I was hoping (he would throw it). I felt like I was in great position. If he threw it, it would have been one of those 50-50 balls, and I would have had to step up to the plate and make that play."
Chandler Jones swoops in for his second strip-sack of the season, and he added another later in the game: "In a perfect world, that's what you should go for every time you go for a sack, but you're never that lucky. But three times I've been that lucky this year. Hopefully I can do it more."
Between Jones and Terrell Suggs, the Cardinals have four strip-sacks in three games. Kingsbury: "Those guys are doing a great job targeting that elbow and getting that ball out."
Jones pumps up his teammates with the recovery and then gets the crowd involved: "The reason why I go running around like that is because I want to spread fire throughout the whole field, the team, and even the stands. I'm not sure if you saw me standing up on the bleachers and sh--, but I'm trying to ignite the stadium, get a momentum swing and get the team rolling."
Allen thought the Cardinals would give up at least three points on the drive: "That was huge, to stop them and then our offense got the ball and did a great job scoring. We were able to take the lead, so that was a huge momentum thing. Anytime you get turnovers, it's awesome for a defense."
Kingsbury knows it's hard to find elite edge-rushers in the NFL: "An impressive play and an impressive human being. We're lucky to have him."