The Cardinals' defense had trouble stopping the run in Sunday's loss to the Vikings, but a bright spot was the pass-rush. Minnesota quarterback Kirk Cousins was sacked four times, including defensive end Chandler Jones' third strip-sack of the season in the second quarter. Safety Budda Baker picked up the loose ball and returned it 36 yards for a score, the Cardinals' second defensive touchdown in as many weeks. Baker and Jones analyzed the play in this week's edition of Cardinals Film Room.
The situation: The Vikings had a 3rd-and-9 from their 36 with 4:24 remaining in the second quarter, leading 10-3.
Jones regularly sees double teams and is excited about a different pre-snap setup: "I realized I had a one-on-one before the play. The (running) back (C.J. Ham) was away from me and they weren't chipping because there was no receiver or tight end in chipping location. I know (Bené Benwikere), he came down and faked as if he was going to blitz. That tackle (Rashod Hill) kind of looked up. (Benwikere) got his attention a little bit. Maybe made him shaky."
Baker prepares to drop into coverage: "We're playing Cover 2 and I'm just reading the quarterback's eyes, playing the (first down) sticks."
Jones quickly wins his battle: "I took a step upfield and stabbed him in the chest. Once I stabbed him in the chest, I got him to stand up. That means I was under his pads. And I know instantly he is coached to try to drop his weight because he's going to get pushed back into the quarterback. Right when I felt him dropping his weight with my left hand, I snatched him and swiped his outside hand down. The rest was barbecued chicken."
Baker keeps his eyes in the backfield: "I see Chandler coming off the edge. I'm just reading the quarterback because the only way he can throw to is the underneath route."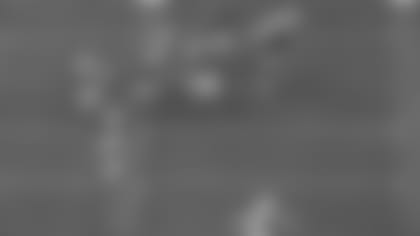 Jones has a sack but pushes for more: "When I first reached out to grab him, it was to get him close to me. I wasn't trying to take him down. I wasn't trying to drop weight on him. Once I realized I had him in grasp and I had a good hold on him, I reached around and tried to swat the ball out of his hand."
Baker springs toward the fumble: "In our zone defense, a lot of the keys are the quarterback. (Watching Cousins) helped a lot. Right when I see Chandler Jones come around and get the ball out, I was quick to the ball."
Jones locates the fumble and sees his teammate quickly approaching it: "Budda literally crossed my face like a blur."
Baker makes a calculated gamble: "Usually we call those 'cities' where you want to jump down on it and make sure you have the possession. There was kind of traffic with (wide receiver Aldrick Robinson) right next to me. If I would have missed he could have possibly picked it up. But for me, we practice scoop-and-score all the time. I just saw the ball going a certain way and I just tried to scoop it up as fast as I could. I knew if I scooped the ball up clean, I was most likely going to go in there untouched."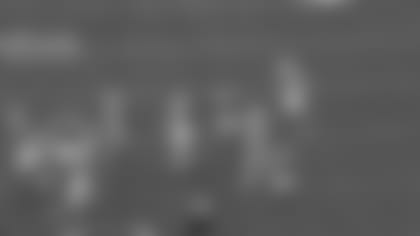 Baker cruises into the end zone: "I haven't had a touchdown in a long time. Since high school. I didn't get any in my three years at the University of Washington. So that was my first one in awhile. It was very exciting. At the end of the day, I was just trying to get points on the board."
Jones' big play came after sizing up Hill in previous series: "Is he vertical setting me, is he horizontal setting me? When I get to the sideline I figure out what he's doing to me, so I know what moves to pull out."
Baker appreciates the help up front: "Chandler's playing like the All-Pro he is. We always know we can rely on Chandler, whether it's run defense or pass. We know the ball is going to come out quick."