The Cardinals struggled offensively in Thursday night's 45-10 loss to the Broncos, and offensive coordinator Mike McCoy was fired the next day. Quarterback coach Byron Leftwich was promoted to fill his spot, and the hope is that Leftwich can add creativity in deploying running back David Johnson. Johnson's biggest gain against Denver was a 17-yard catch, which came after he flexed out into the slot. Johnson and quarterback Josh Rosen broke down the play in this week's Cardinals Film Room.
The situation: The Cardinals had a first-and-10 at the Arizona 49 with 11:05 remaining in the fourth quarter, trailing 45-10.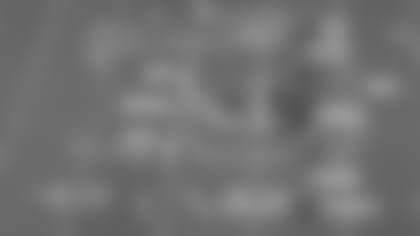 Rosen keys in on Broncos middle linebacker Brandon Marshall: "For the most part, I'm reading this off the Mike. We've got a shallow park (by tight end Jermaine Gresham), a double slant (with Johnson and Larry Fitzgerald). As (Gresham) comes across, if he gets grabbed, then I come outside to (Johnson). If (safety Will Parks) clamps down, I push outside even more (to Fitzgerald). If (Gresham) comes across and (Marshall) passes it up, they have 3-for-3 here, and (linebacker Todd Davis) grabs Gresham, that pushes me outside to this dig, out combination (with J.J. Nelson and Christian Kirk). So basically the Mike is telling me what side to read."
Parks slides down to pick up Johnson in coverage: "I know they are going to have a safety on me, especially with the linebacker that didn't move out on me. The safety (Parks) came down from the back and came down to guard me. He came up head up, so I knew he had me man, at least, or maybe zone. I knew I was going to have to get open that way."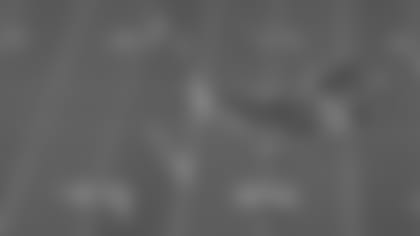 Both linebackers cover Gresham, which helps Johnson: "He's getting the Mike to guard him. It adds more space for me to get open and the quarterback to throw the ball."
Rosen now knows which side of the field he will throw to, and focuses on Parks: "So (Marshall) goes with Gresh, and you can see (Parks) drops down to outside leverage, which he probably shouldn't. If he jumps on top of that, I'm coming outside to Larry."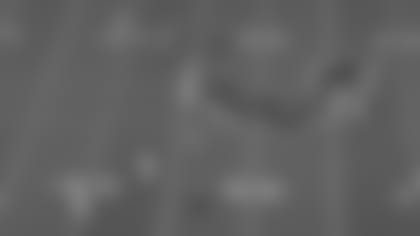 Johnson uses a quick cut to find open space as Parks plays off: "With me having a more versatile route tree, DBs usually have to keep their antennas up a little bit more. Maybe they'll sag off a little bit more, or maybe they won't just sit at five yards and try to recover from what I'm doing. It does help out a lot that I have versatility with the routes. It's harder for them to try to figure out what I'm doing."
Rosen fires the pass like he would to a wideout: "It's a compliment to him, the fact that I don't have to adjust, because he does run routes like a receiver." Any time Johnson is underestimated in the passing game, Rosen will be happy to find him: "One of the advantages of having a running back out there, a lot of times (the defense is) like, 'Eh, (expletive) it, the running back's not getting the ball.' And they end up getting the ball."
Johnson hopes to get back to his 2016 form, which included plenty of work in the slot: "I like coming from the slot because I'm closer to the line of scrimmage. I don't have to worry about wasting five yards just to get to the line of scrimmage. And I'm able to more easily read the coverage, depending on safety or a linebacker. When I'm coming out of the backfield, I have to try to get to the line of scrimmage and read at the same time. That's why I like being split out wide better."