The Cardinals played well on Sunday against the Packers, but the odds of winning didn't look great as time ticked down. They were staring at a third-and-forever in a tie game, with Green Bay quarterback Aaron Rodgers poised to get the ball back. Quarterback Josh Rosen and wide receiver Larry Fitzgerald didn't let that happen, connecting on a 32-yard completion for a first down. It kickstarted a drive which ended in a game-winning 44-yard field goal by Zane Gonzalez. Rosen, Fitzgerald and right tackle Will Holden discussed the crucial completion in this week's edition of Cardinals Film Room.
The situation: The Cardinals had a third-and-23 from their 12 with 4:35 remaining in the fourth quarter, tied at 17.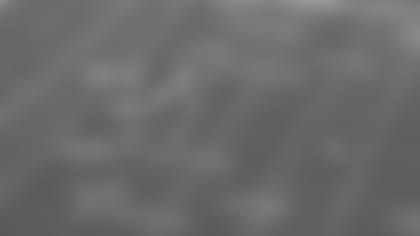 Holden gets to the huddle and hears an aggressive call by offensive coordinator Byron Leftwich: "Think about it. We've got a rookie center, rookie quarterback. We had what, three rookies playing on the line? And I'm a Year 2 guy. Not a lot of experience. Byron is doing a great job making these calls. There's nothing to lose, you know? Why not? Why would we (be conservative and then) punt it? Let's go for it."
Rosen originally keeps his eyes down the seams: "I saw Cover 2 and I was just kind of hoping the safeties get wide and something would pop up in the middle. I didn't really have any specific plan, just that I would drop back. Nothing should be open, so I basically have four verts and I'm looking down the field to see if something pops."
Rosen feels the pass rush: "Up the middle. You can see it from the end zone (video). I was looking for these benders in here (to tight end Ricky Seals-Jones or Fitzgerald), and when I was looking I saw some pressure and rolled right."
A scramble wasn't the plan, but Holden knows it helped make the play: "Obviously we'd like to have a clean pocket where he didn't have to do that, but him rolling out buys a little extra time for the receivers to get open, especially when it's third-and-23. This is a must-win situation. We go incomplete and punt here, the game could have ended very differently. Even just holding for a little longer here to free that up. If I let that 3-technique (Kenny Clark) take the outside easily, (Rosen) wouldn't have been able to roll out."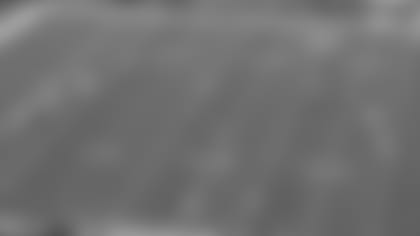 Rosen motions Fitzgerald toward an open area: "I don't know if these ever work when people point, like if it means anything. It's a habit. I do it anyways. I don't know if they ever see that and do anything, but he ran, so. I was just happy to see it was Larry. I was like, 'Alright, if anyone's got a shot at this, it's him.'"
Fitzgerald knows how to adjust in an off-schedule situation: "I ran my seam route and I looked back and saw Josh getting flushed out to the right. We just went to scramble drill mode. We work on those plays all the time. The first guy on the right side is supposed to come back to the ball. I saw an opening and I just broke."
Holden hustles to chip Clark in case Rosen needs more time: "I saw (Clark) was going wider and out of the corner of my eye I saw Josh was rolling out. I just had to pick up my pace and get a hit on him so Josh didn't feel pressured to make an errant throw."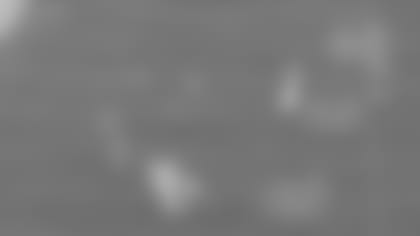 Rosen just wants to give Fitzgerald a chance: "I thought I underthrew it a little bit. I kind of did. But it's Larry Fitzgerald. He'll figure it out."
Fitzgerald dives for the ball: "That's a tough throw, to be rolling right, throw it back across your body, something you're told not to do repeatedly. He gave me an opportunity and I wanted to make sure I made a play for him to earn his trust."
Holden turns to watch as Rosen unleashes: "I catch up with the 3-tech, bump him, and I see the throw. I had no idea if it was a catch or not. It looked like a catch."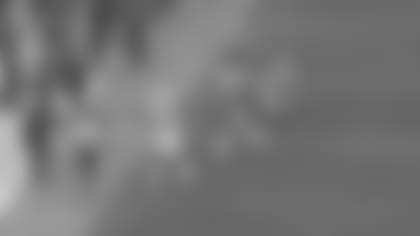 Holden hurries to the line with the rest of the offense to force the Packers into a quick decision: "You have to, just in case they want to review it. We just go quick, quick. Get on the ball and run the play. Everyone kind of knows we have to get up there. It's a tie ballgame and we're trying to win this thing. We want to get up there and snap this ball. We don't want it in the hands of the officials. Control the game on our own."
Fitzgerald gets set but knows the completion won't be overturned: "Catching the ball is what I do. I've done it a long time. I just wanted to get my hands in there and let the referee know I made the catch. I knew as soon as I got up that I made the catch, but they wanted to hurry up and get a play going. There was no second thought. I caught that ball."